Weekly Bot Brief on Robotic Research and Investment Review 11-10-2018
"There is no force on earth more powerful than an idea whose time has come" -Victor Hugo
Bot Index Highlights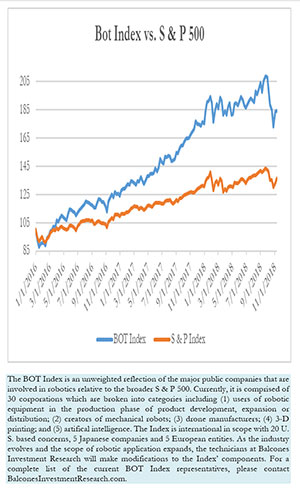 You may recall from last week's Bot Brief the Asian constituents of the Bot Index performed remarkably well with Hiwin Technologies gaining a spectacular 25.54%, followed by double digit increases by OMRON Corp. (+10.08%), Fanuc Corp. (13.41%) Keyence (+14.51%) and Yaskawa Electric (+17.47%). Cyberdyne Inc. also increased 6.88% for the week. Well, this week's trading was a different story with three of the aforementioned companies among the largest losers. Yaskawa Electric fell 8.46% while Hiwin Technologies gave back 5.69% and Fanuc Corp. slid 7.51%. The sole domestic name that experienced a significant market deterioration was Immersion Corp. The company dropped 9.91% following its report of third quarter earnings that saw both revenues and earnings falling fromthe comparable 2017 period.
These decliners contributed to the underperformance of the Bot Index (+.36%) relative to the S & P 500 (+2.13%).
Among gainers, AeroVironment led the pack with a 9.09% market improvement as it was awarded a $3.2 million contract from the Department of Defense on behalf of an allied nation. NIO Corp. was the beneficiary of a Market Realist article that mentioned that four of the ten analysts that follow the company have 'buy' ratings on the stock and made the comment that "As a player in the world's largest auto market, NIO has an opportunity to grow faster than Tesla." Three defense companies performed well for the week with Textron gaining 5.18%, Lockheed Martin up 4.62% and Northrup Grumman increasing by 4.36%.
Most of the Bot Index Companies Have Reported Their September Quarter's Results. Here is a Brief Glimpse:
Company Revenue EPS
Cognex -10.69% -21.05%
Apple +19.63% +41.06%
3D Systems +7.85% N/A
Lockheed +17.66% +58.64%
NVIDIA* +40.04% +91.30%
Textron -8.15% +277%
United Tech. +9.61% -7.78%
Northrup +23.87% +77.72%
AeroVironment* +128% N/A
Ormat Tech. -.56% N/A
IRobot +29.13% +47.37%
Intuitive Surgical +14.27% -3.92%
Google +21.49% +36.47%
Keyence +15.16% +9.35%
ABB Ltd. +6.11% +3.7%
Lincoln Electric +10.16% -32.70%
Faro Tech +11.11% N/A
Offshore Intl. +8.98% N/A
Accuray +5.5% +.1%
Amazon +20.89% +1005%
All EPS are fully diluted YOY as reported by Morningstar. * Denotes July quarter.
Member: American Economic Association, Society of Professional Journalists, United States Press Association. Institute of Chartered Financial Analysts, Robotic Industries Association.
The Bot Brief is a weekly newsletter designed for economists, investment specialists, journalists and academicians. It receives no remuneration from any companies that may from time to time be featured and its commentaries, analysis, opinions and research represent the subjective views of Balcones Investment Research, LLC. Due to the complex and rapidly changing nature of the subject matter, the company makes no assurances as to the absolute accuracy of material presented.
Balcones Investment Research can be reached at its website BalconesInvestmentResearch.com and is headquartered in Florida; with offices in Texas and North Carolina, United States
Cover photo courtesy of The Mirror, UK