Weekly Bot Brief on Robotic Research and Investment Review 1-5-2018
"There is no force on earth as powerful as an idea whose time has come" -Victor Hugo
Bot Index Highlights: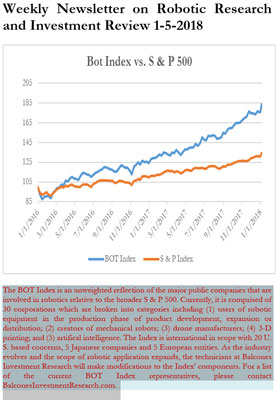 Trading in the initial week of 2018 proved explosive for robotic investors. The Bot Index rose a dramatic 4.72% in a market that carried the S & P 500 up 2.60%. Four of the Bot Index's components experienced double digit returns for the week while three others neared that mark. Leading the pack was NVIDIA which shed some of its recent weakness to jump 11.32%. Fueling the rise is there are indications that the firm might make some major announcements at this week's Consumer Electronics Show. Despite being panned by J.P Morgan, shares of Accuray Inc. rose 10.46% and the Japanese firm Fanuc jumped 10.98% as a result of a Fortune article entitled 'The 6 Best Stocks to Buy for 2018 Before Robots Take Your Job'. Rounding out the double-digit returners was Mazor Robotics whose 10.43% increase was due, in part to a report by Zacks Equity Research listing Mazor as one of '4 MedTech Stocks to Explode in 2018' and a Motley Fool analysis '3 Stocks That Feel Like Disney in 1957'. Other superior returners for the week included Oceaneering International up 9.51%, 3D Systems up 8.68% and Cognex who jumped 8.54%.
The Index had only two stocks that were in the red for the first week of 2018. AeroVironment fell almost 5% despite announcing a joint venture with Softbank, and Ekso Bionics that dropped 10.79% as it announced a major stock offering and has become beset by a plethora of class action lawsuits.
Bots in the News:
In a TechCrunch article posted on Christmas day, a company Zipline is using its own manufactured drones to deliver urgent medical supplies and blood to remote hospitals in Rwanda. Flying at 100 kilometers per hour, the drones drop off the supplies by parachute at a rate of 20 deliveries per hospital per week.
The Oxford Insights Team published its AI Readiness Index which placed the UK as the top country out of 35 most technologically advanced countries to be prepared for artificial intelligence's economic impact.
The Institute for Public Policy Research predicted 44% of jobs are ultimately at risk of some form of robotics replacement. A bit of resolution wisdom, however, from one of their researchers – Carys Roberts, is highly endorsed by The Bot Brief. He suggests, "To avoid inequity rising, the government should look at ways to spread capital ownership and make sure everyone benefits from increased automation". This 'capitalistic' approach makes considerably more sense to us that the 'universal income' hypothesis currently sponsored by certain vocal futurists.
The Motley Fool recently published, 'For Artificial Intelligence, The Future is Now' on the variety of ways that AI is going to revolutionize health care (firms invested $1 billion in 2017!), data mining, warehouse control, machine learning, agriculture, manufacturing and transportation.
In The Conversation's 'What an Artificial Intelligence Researcher Fears About AI', the author expressed his concerns that "regardless of the physical threats superintelligences may present, they also pose a political and economic danger. If we don't find a way to distribute our wealth better, we will have fueled capitalism with artificial intelligence laborers serving only very few who possess all the means of production."
Wired Magazine published an article on Dec. 29th entitled, 'After Peak Hype, Self Driving Cars Enter the Trough of Disillusionment'. Perhaps like John Bunyan's allegory, The Pilgrim's Progress where protagonist Christian sinks into the 'slough of despond', manufactures of self driving cars are likely to sink under the weight of the many challenges of their, 'lost condition, (where) there ariseth many fears and doubts and discouraging apprehensions'. In any regard, Wired Magazine summarized that it will be many, many years before self-driving cars are a mainstream source of personal transportation.
Member: American Economic Association, Society of Professional Journalists, United States Press Association. Chartered Financial Analysts
The Bot Brief is a weekly newsletter designed for economists, investment specialists, journalists and academicians. It receives no remuneration from any companies that may from time to time be featured and its commentaries, analysis, opinions and represent the subjective views of Balcones Investment Research, LLC. Due to the complex and rapidly changing nature of the subject matter, the company makes no assurances as to the absolute accuracy of material presented.
Balcones Investment Research can be reached at its website BalconesInvestmentResearch.com and is headquartered in Florida; with offices in Texas and North Carolina, United States