Weekly Bot Brief on Robotic Research and Investment Review 1-26-2018
"There is no force on earth as powerful as an idea whose time has come!" -Victor Hugo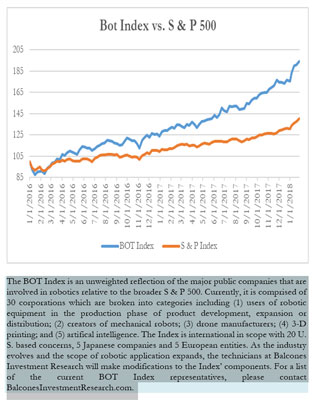 Bot Index Highlights:
Trading in the last week of the first month of 2018 saw the continuing strong performance of the Bot Index. While reaching another new high level, the components of the index presented a barbell schematic of performance. Eight of the stocks within the index posted gains in excess of 5.75%, while six companies noted stock declines greater than 3%. While the index recorded an increase of 1.68%, the return fell short of the 2.23% jump in the S & P 500 during the week. Amazon (+8.30%) and Hiwin (+8.26%) led the gainers which included Cyberdyne (+6.99%), Mazor Robotics (+6.72%, Accuray (+6.60%), IRobot (+6.27%), Northrup Grumman (+6.07%) and NVIDIA (+5.75%). Amazon shares were bolstered by an upgrade in its bull case price target by Morgan Stanley to $2,100 (the stock closed at $1,402). Mazor Robotics' gain was a result of a Businesswire report that suggested the market for global surgical robotics would expand to $12.6 billion by 2025. An earnings loss that was less than expected, contributed to Accuray's gain. Sales rose to $100.3 million for the 2nd quarter versus analysts' expectations of $90.3. Additionally, backlogs increased 10%. Also reporting better than expected earnings was Northrup Grumman who increased its dividend by 10% and reported 4th quarter sales of $6.63 billion and adjusted EPS of $2.82.
At the other end of the barbell is an eclectic group of companies that included Apple, Cognex, Immersion Corp., Yasakawa, Keyence and Ekso Bionics. All were down in the 3+% range except for Ekso Bionics who fell 8.48% as it remains beset by class action lawsuits.
While SpaceX is Testing its Falcon Heavy Rocket, it is Doubtful That it Can Takeoff Any Faster That Robotics' Stocks Did in the First Month of 2018!!!
As noted in the graph, the Bot Index expanded over 10% in the month of January, 2018. This was well in excess of the 7.26% gain of the Standard and Poors 500 Index. There were only two companies whose stock prices declined during the month – Ekso Bionics and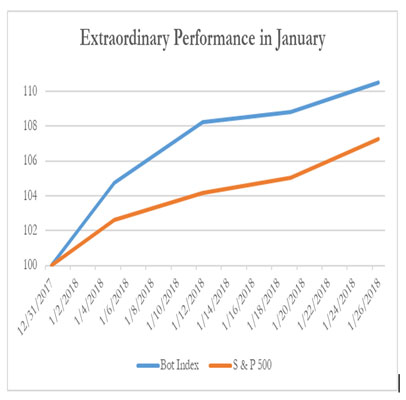 AeroVironment.
Fourteen of the thirty components of the Bot Index gained in excess of double digits in the first four weeks of the new year:
Accuray Inc. +31.39%
NVIDIA +25.75%
3D Systems +24.07%
IRobot +23.00%
Mazor Robotics +21.78%
Fanuc +21.42%
Intuitive Surgical +20.63%
Amazon +19.89%
Yasakawa +19.06%
Hiwin Tech. +16.01%
FARO Tech. +14.68%
OMRON Corp. +12.50%
Google +12.37%
Keyence +12.08%