Weekly Bot Brief on Robotic Research and Investment Review 1-17-2019
"There is no force on earth more powerful than an idea whose time has come" -Victor Hugo
Bot Index Highlights: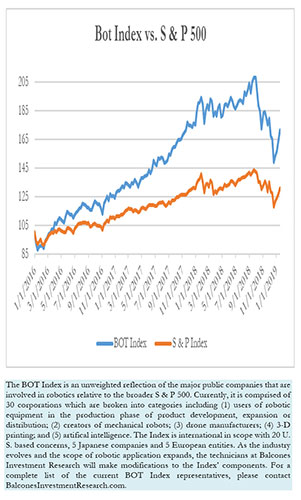 It has now been four weeks in a row that the Bot Index outperformed the S & P 500. This week the margin was 4.31% versus 2.87% in favor of the bots. Two Japanese companies, Cyberdyne and Yaskawa Electric, were the only double-digit performers with 14.14% and 13.80% gains respectively. Joining them were other Asian components, Fanuc Corp. up 8.59%, Hiwin Technology up 8.41% and OMRON Corp. who rose 8.34%. Other significant performers included Ekso Bionics who, despite the prior week's 7.83% decline, has been on an upsurge of recent weeks as its low price ensures some degree of volatility. Intuitive Surgical's gain of 7.37% was in anticipation of next week's earnings announcement.
There were only two of the thirty bot components that were in the negative zone for the week. Accuray Inc. dropped 3.25% as a possible 'give back' from the prior week's 16.62% advance. The company will be reporting earnings next week and much speculation is for a positive number. The other negative returner was Faro Technologies with a .9% decline as news of the company's founder was set to retire as the company's CEO and President of the Board of Directors. Negative news surrounding Wall Street skepticism of the 3D printing business has also not been a positive for the company.
Replacement for Mazor Robotics Within the Bot Brief Index:
For the past several weeks the analysts at Balcones Investment Research have been reviewing eligible replacements for Mazor Robotics. Mazor had been partially owned by Medtronics who finalized an offer at $58.23 for the remainder of outstanding shares at year-end.
The company that has been selected as Mazor's replacement was determined relative to its similar industry to Mazor's and is domiciled outside the United States as was Mazor. The company, Qiagen N.V. from The Netherlands is trading on the U.S. market as an ADR in dollar currency whose symbol is QGEN. It is currently at $36.93, has a market capitalization of $8.355 billion and has a relatively tight trading range of $31.01 to $39.45 per share. The shares trade at a beta of 1.18, has a P/E of 96x and will be reporting earnings on February 4th. In its past four quarters it has exceeded consensus earnings expectations.
The company is a provider of sample and assay technologies for molecular diagnostics, applied testing, with academic and pharmaceutical research. Its QIAcube robotic workstations provide solutions for automated sampling and is a complement to the company's testing and complex molecular diagnostics.
Member: American Economic Association, Society of Professional Journalists, United States Press Association. Institute of Chartered Financial Analysts, Robotic Industries Association.
The Bot Brief is a weekly newsletter designed for economists, investment specialists, journalists and academicians. It receives no remuneration from any companies that may from time to time be featured and its commentaries, analysis, opinions and research represent the subjective views of Balcones Investment Research, LLC. Due to the complex and rapidly changing nature of the subject matter, the company makes no assurances as to the absolute accuracy of material presented.
Balcones Investment Research can be reached at its website BalconesInvestmentResearch.com and is headquartered in Florida; with offices in Texas and North Carolina, United States
Cover photo courtesy of The Mirror, UK