Weekly Bot Brief Newsletter on Robotics 9/3/2021
"There is no force on earth more powerful than an idea whose time has come."
- Victor Hugo
Bots in The News: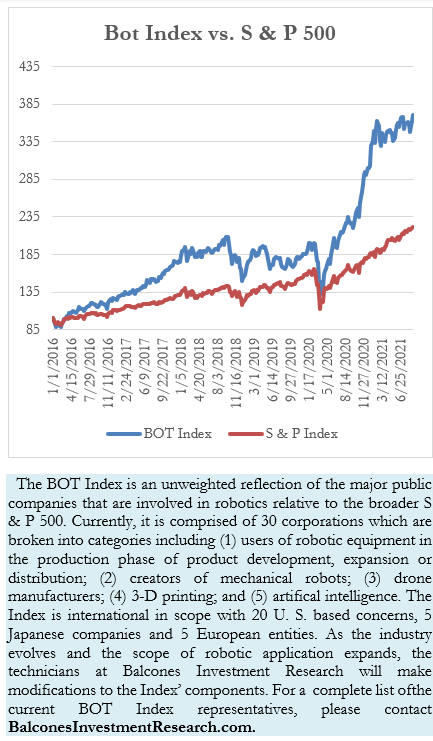 Despite all the political drama and the massively weaker than expected jobs data report last week, the Bot Index enjoyed a robust increase of 2.21%. That number eclipsed the S & P 500's 58 basis point gain. Interestingly the bot's performance was almost entirely due to the surge in Japanese holdings. The announcement that Prime Minister Yoshihide Suga would be resigning on September 30, caused the Nikkei 225 to increase almost 5% last week. Consequently, three of the Bot Index's Japanese components experienced double-digit gains for the week.
Fanuc Corp's 11 ½% jump led the Asian names but was closely followed by OMRON Corp's 11.43% and Yaskawa Electric's 10.10%. Joining the double-digit gainers were Keyence Corp. and Cyberdyne Inc. who rose 7.46% and 5.22% respectively.
The sole domestic outperformer was 3D Systems who has been one of the more volatile performers within the Index. The stock was promoted in a recent article regarding 3D printing and the company's announcement that it has added three new metals to its list of available construction materials. The stock rose 6.6% which follows the prior week's gain of 7.53%.
The Chinese EV company – NIO shook off bad news regarding potential moves by China's Administration to clamp down on income inequality and jumped a bit over 6%. The company reported that it had experienced its highest ever new order flow in August.
There were only four weaker performers within the Index during the period. Accuray Inc. retreated nearly 3%, giving back some of the 10% gains it had experienced over the past few weeks. Lincoln Electric fell 2.84% on Wednesday as it was subject to a heavy volume sell off. Raytheon Technologies declined just over 2% when it announced it would be making an agreement to acquire a privately held, flight-tracking data provider for an undisclosed sum.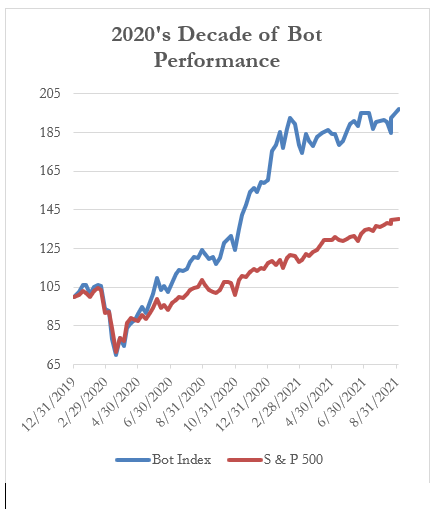 The Future of Surgery?
We recently reviewed a video produced by Interesting Engineering that touted eight robotic surgical systems. Two of the eight are components of the Bot Index: Intuitive Surgical and its DaVinci System and Accuray Inc.'s Cyberknife. Below is a thumbnail description of the devices and their functions:
DaVinci Systems has been utilized in over 5 million robotically assisted surgeries, ISRG is the granddaddy of robotic surgery. It employs minimally invasive arms to respond to the surgeon's movements via a console.
Flex Robotics provides surgeons with a scope to view anatomically difficult areas that need transoral repair.
DLR MiroSurge assists surgeons by using telemanipulation to control the robots three flexible arms
Mazor X provides 3D simulations of spine anomalies
Mako Smart Robotics assists in partial or complete knee replacement using CT scanning and 3D bone removal.
Yomi Robotic System is utilized in the planning and placement of dental implants.
Cyberknife is the Accuray Inc. brand of specific delivery of radiation treatment that utilizes a 6-axis robotic arm that bends around the patient.
Think Surgeries, like the Mako system, is utilized in partial or complete knee replacements.
Member: American Economic Association, Society of Professional Journalists, United States Press Association. Institute of Chartered Financial Analysts, Robotic Industries Association, Member IEEE.
The Bot Brief is a weekly newsletter designed for economists, investment specialists, journalists, and academicians. It receives no remuneration from any companies that may from time to time be featured in the brief and its commentaries, analysis, opinions, and research represent the subjective views of Balcones Investment Research, LLC. Due to the complex and rapidly changing nature of the subject matter, the company makes no assurances as to the absolute accuracy of material presented.