Weekly Bot Brief Newsletter on Robotics 8/30/2019
"There is no force on earth more powerful than an idea whose time has come." -Victor Hugo
Bot Index Highlights: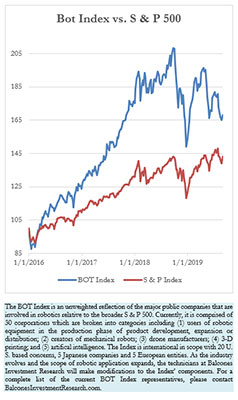 In the strongest week since June, the Bot Index rose 1.67%, breaking a string of four consecutive negative performances. The S & P 500 gained 2.787%, surprisingly beating the bots with their higher betas and the NASDAQ (whose results were slightly below that of the bots). Part of the rationale behind the lesser performance was considerable weakness in lower priced bot issues including Ekso Bionics, NIO Inc., and Immersion Technologies. For seven consecutive weeks, Ekso Bionics has declined and last week's 13.16% reduction brought the stock to one half its price of the July 12th value. Immersion Technologies backed off 3.64% after being one of the prior week's better performers, having then gained 7.44%. Finally, despite the China/U.S. trade catalyst that drove the market's resurgence during the week, unexpectedly, shares of NIO Inc. declined 2.06%.
There were six components of the Bot Index that rose more than 4%. United Technology's 5.53% boost was a result of the Defense Department's endorsement of the company's merger with Raytheon. Intuitive Surgical rose 5.52% following a Motley Fool research article entitled, "My 3 Top Healthcare Stocks for Long Term Investors", which included Intuitive Surgical. Two Asian names, Yaskawa Electric and Keyence, increased 4.70% and 5.21% respectively as a result of the easing of trade tensions. Cognex Corp. jumped 4.26% after a Simply Wall Street feature that noted the company's consistent earnings performance. Finally, Textron fought off numerous class action lawsuits and gained 4.48%. The company announced and demonstrated its latest version of Bell's autonomous drone. The product, noted as a bellwether for the firm, can carry a payload of 70 pounds and at speeds of 100 mph. Witnessing the successful test was potential buyer Yamato who has other relationships with the Texas concern. The current version has widespread delivery capabilities and defense potential. The long-term prospects are as a major player in the evolution of human transport.
Member: American Economic Association, Society of Professional Journalists, United States Press Association. Institute of Chartered Financial Analysts, Robotic Industries Association.
The Bot Brief is a weekly newsletter designed for economists, investment specialists, journalists and academicians. It receives no remuneration from any companies that may from time to time be featured and its commentaries, analysis, opinions and research represent the subjective views of Balcones Investment Research, LLC. Due to the complex and rapidly changing nature of the subject matter, the company makes no assurances as to the absolute accuracy of material presented