Weekly Bot Brief Newsletter on Robotics 8/23/2019
"There is no force on earth more powerful than an idea whose time has come" -Victor Hugo
Bot Index Highlights: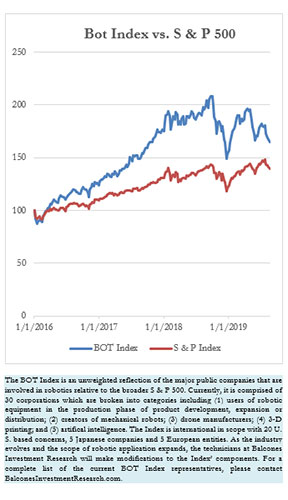 Hopes for a decent performance week were dashed on Friday as the market reacted to the Administration's imposition of another series of tariffs on Chinese products. The market had improved on earlier in the week on the higher faith for some resolve of the escalation of trade disputes. That optimism was dashed on Friday with the announcement of an incremental set of tariffs by both nations. President Trump has become embolden as a result of the heavy Chinese level of debt (300% of GDP) and slowing economy. Investors, however, have become less than confident on the success of this brinksmanship gambit. The market slid 1.44% and the Bot Index fell 1.16% marking four consecutive weekly declines.
The weaker performers included the low-priced issues of Ekso Bionics and Accuray Inc. Ekso has fallen well below the $1 mark and has tumbled to one-third of its May 5th price. Accuray's drop of 7.77% came on the heels of its 20% decline during the prior week as its 4th quarter earnings loss and weak 2020 guidance disappointed investors.
There were only a couple of significant contributors to shareholder value during the week. Immersion Tech. gained 7.44% on the announcement that it had entered into a haptic licensing agreement with the Chinese firm Awinic. Specifically, Immersion will provide its technology to Awinic mobile phones. Oceaneering International rose almost 4% on its announcement of reaching $1.8 million in free cash flow versus a negative position last year.
Member: American Economic Association, Society of Professional Journalists, United States Press Association. Institute of Chartered Financial Analysts, Robotic Industries Association.
The Bot Brief is a weekly newsletter designed for economists, investment specialists, journalists and academicians. It receives no remuneration from any companies that may from time to time be featured and its commentaries, analysis, opinions and research represent the subjective views of Balcones Investment Research, LLC. Due to the complex and rapidly changing nature of the subject matter, the company makes no assurances as to the absolute accuracy of material presented