Weekly Bot Brief Newsletter on Robotics 8/20/2021
"There is no force on earth more powerful than an idea whose time has come." — Victor Hugo
Bots in The News: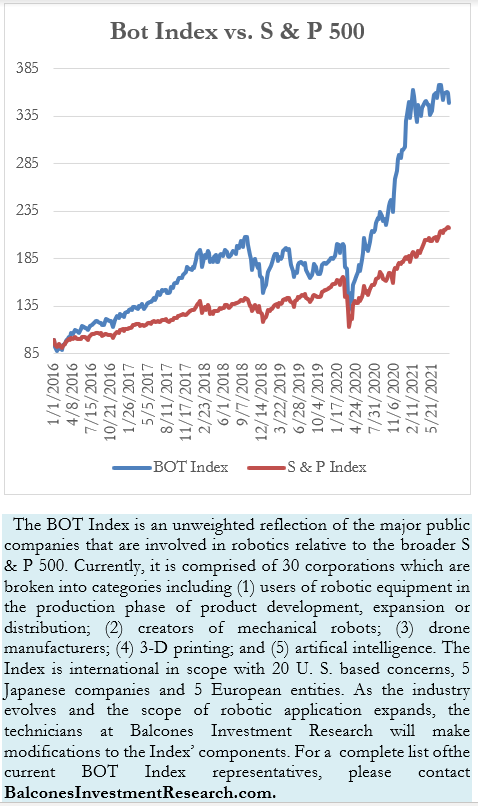 Not even Elon Musk's dramatic introduction of his 'humanoid' robot last week was sufficient for the bots to overcome their recent doldrums. The events in Afghanistan overshadowed all the markets, but particularly hard hit within the Bot Index were the Asian holdings. Two of the three double-digit decliners for the week were impacted by geopolitical events in Asia. The worst of which was Hiwin Technologies, whose Taiwan based headquarters felt the brunt of concern over the looming power of China and fear over U.S.'s commitments abroad.
Ironically, the other Asian company that was down over 10% was NIO Ltd. The fortunes of the hot company were doused with cold water as the Chinese government indicated that it may pull back on economic freedoms and capitalistic endeavors. A 'redistribution of wealth' was also hinted at, which accounted for Tesla's 5.15% decline as the China market for EV's is a primary objective for Tesla's automobiles. Other Asian companies moving in response to the political turmoil in the region included Fanuc Corp. (-6.43%), Cyberdyne Inc. (-3.08%), and Yaskawa Electric Co. (-8.67%). Weaker domestic components of the Bot Index included Brooks Automation (-5.17%), Oceaneering International (-9.86%), iRobot (-10.97%) and 3D Systems (-7.46%). These decliners led to the 2.98% retreat of the Bot Index, far below the 59-basis point slide experienced by the S & P 500.
Of the gainers there were only four that were sufficient to bring smiles to their shareholders. They included Accuray Inc. who led the pack with a 5.75% gain, Intuitive Surgical whose 4.07% increase was attributed to a mention by Jim Cramer that he would be a buyer at this price, Cognex Corp. that rose 3.52% and NVIDIA Corp. who posted a 3.11% jump.
The Accuray Inc. improvement was a result of its 4th quarter earnings that noted a 16.8% improvement in revenues. In addition, the company announced that it had increased its research and development expenditures by 25.7% and reduced debt, bringing its year end cash level to $116.4 million from YOY's $107 million.
NVIDIA Corp. also reported excellent financial results. Revenues in the second quarter expanded by 68% to $6.5 billion led Bank of America to boost its stock price target to $260. The stock closed at $208.16, indicating a potential 25% increase.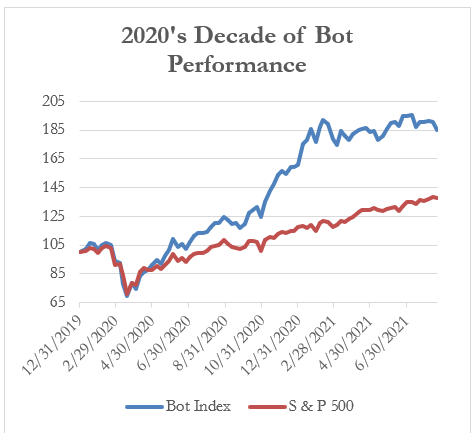 Bots In More News:
A couple of weeks ago the Bot Brief noted Elon Musk would be featuring an AI Day much like his famous Battery Day, that would provide a sneak preview of Tesla's new humanoid robot. With a prototype expected for next year Mr. Musk indicated his new venture would be to have the robot focus on the traditional robotic chores of taking on the dangerous, dirty, or demeaning jobs from humans. Mr. Musk projected that "physical work would be a choice in the future and that a universal basic income would be needed." He did not indicate how the robot would be sold nor its price tag.
A couple of articles in the IEEE Spectrum addressed several interesting futuristic topics associated with energy. In the first feature, Big Blue Gets Small, IBM announced it was introducing the world's first 2-nanometer chip. In comparison with traditional 7-nanometer alternatives, the new chip is expected to either increase performance by 45% or utilize 75% less energy. Utilizing a new chip configuration and an ultraviolet lithography patterning, IBM's breakthrough technologies are expected to allow cellphones to have four times the battery life currently available and will allow quicker object detection and reaction time in autonomous automobiles.
The second Spectrum article entitled, Cloud Computing's Dark Cloud, expressed concern over the significant level of energy required to maintain the servers that contain cloud storage. Bloomberg was cited as the source for their projection of current energy consumption to represent one percent of the planet's entire electrical production. While Bloomberg suggested that, by the end of the decade, the consumption figure could rise to 8%, it is the hope that energy efficient breakthroughs such as the IBM chip will prove the projection invalid.
Member: American Economic Association, Society of Professional Journalists, United States Press Association. Institute of Chartered Financial Analysts, Robotic Industries Association, Member IEEE.
The Bot Brief is a weekly newsletter designed for economists, investment specialists, journalists, and academicians. It receives no remuneration from any companies that may from time to time be featured in the brief and its commentaries, analysis, opinions, and research represent the subjective views of Balcones Investment Research, LLC. Due to the complex and rapidly changing nature of the subject matter, the company makes no assurances as to the absolute accuracy of material presented.