Weekly Bot Brief Newsletter on Robotics 8/16/2019
"There is no force on earth more powerful than an idea whose time has come" -Victor Hugo
Bot Index Highlights: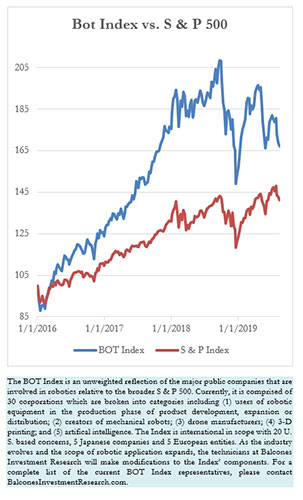 Despite some investor strength late in the week, both the Bot Index and the S & P 500 failed to overcome the geopolitical issues that propelled the mid-week's downfall. Continuing concerns over Chinese trade and tariff issues together with the mere 4.8% gain in July's Chinese industrial production (weakest since February 2002) and an inversion in U.S. interest rates drove the market to experience a Dow fall of some 800 points. Consequently, both the bots and the S & P 500 ended the week declining 1% each.
Among the Bot Index' gainers for the week, three Asian holdings led the thirty-stock index. Cyberdyne jumped 12.57%, Yaskawa Electric rose 5.43% and OMRON Corp. gained 3.11%. The only U.S. company to produce much of a gain for its investors was NVIDIA Corp. NVIDIA announced sales and earnings that exceeded Wall Street analysts' expectations. The report was accompanied by a number of research reports that pointed to a 'turnaround' in the chip business and the likely 'back on track' growth for the company. The stock was bid up 3.49% and reversed two previous weeks of consecutive declines. The stock, once a 'darling' of the technology space, has been an investor nightmare since it's early April's $190.95 stock price. The company closed this week at $159.56.
The losers were led by the 20+% decline in Accuray Inc. As we noted in last week's Bot Brief, Accuray had been on a multi-week decline in anticipation of earnings that were reported this week. The prescience of investors was accurate as earnings and revenues both fell short of expectations. The quarterly loss was two cents, versus Zach's anticipation of a three-cent gain.
Textron dropped 5.15% as the Army expanded its bid for a $99 million drone contract from two suppliers to four. Textron had been the prior contractor and now is facing greater competition. Another defense name, United Technologies fell 4.72% as it experienced pushback regarding its merger with Raytheon. Furthermore, a major hedge fund reported its liquidation of UTX holdings.
Two international holdings were also among the weaker positions in the index. NIO Corp. fell 5.75% as its management noted a 38% decline in July automobile deliveries. QIAGEN N.V. declined 5.10% as it missed both earnings and revenue expectations and reduced future guidance.
Member: American Economic Association, Society of Professional Journalists, United States Press Association. Institute of Chartered Financial Analysts, Robotic Industries Association.
The Bot Brief is a weekly newsletter designed for economists, investment specialists, journalists and academicians. It receives no remuneration from any companies that may from time to time be featured and its commentaries, analysis, opinions and research represent the subjective views of Balcones Investment Research, LLC. Due to the complex and rapidly changing nature of the subject matter, the company makes no assurances as to the absolute accuracy of material presented