Weekly Bot Brief Newsletter on Robotics 8/14/2020
"There is no force on earth more powerful than an idea whose time has come" -Victor Hugo
Bots in The News: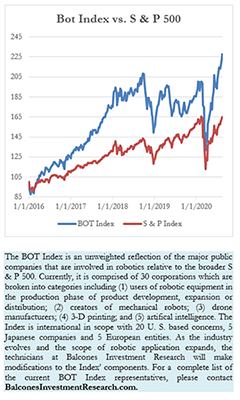 The robotic stocks that comprise the Bot Index continue to perform well in the 2020 environment. This week's gain of 2.34% pushed the composite to a new high level of 227.50. When compared to the broad market, the bots have gained 38% more over the period starting December 31, 2015. For the year to date period, the Bot Index has returned a bit over 20% versus the S & P 500's 4 ½% upturn.
Helping to contribute to the strong performance of the bots this week was the upsurge of a number of the Japanese holdings.
Keyence Corp. led the Asian names with an 8.74% rise, followed closely by Yaskawa Electric who jumped 7.13%. OMRON and Fanuc added returns of 5.43% and 4.63% respectively.
Tesla wracked up the largest gain for the week with its jump of 13.63%. The stock was assisted by a Merrill Lynch report citing a possible 50% annual growth target over the next five years. The company upped their price target from $800 to $1750 and their recommendation from 'sell' to 'hold'.
One of last week's best performer, Immersion Corp. added another 9% increase over the 17.50% gain of the prior week.
Gainers over 3% included NVIDIA Corp., Raytheon Technologies, Northrup Grumman, Apple, Rockwell Automation and last but far from least was Oceaneering International. The 3.41% gain from OII this week quietly puts this 'stealth' stock with a greater than doubling in price since April 4, 2020.
The earnings miss by 3D Systems continues to plague the stock, which experienced a 4% decline to lead the weakest of the Bot Index's holdings. The five other decliners were somewhat inconsequential.
Member: American Economic Association, Society of Professional Journalists, United States Press Association. Institute of Chartered Financial Analysts, Robotic Industries Association, Member IEEE.
The Bot Brief is a weekly newsletter designed for economists, investment specialists, journalists, and academicians. It receives no remuneration from any companies that may from time to time be featured and its commentaries, analysis, opinions, and research represent the subjective views of Balcones Investment Research, LLC. Due to the complex and rapidly changing nature of the subject matter, the company makes no assurances as to the absolute accuracy of material presented.