Weekly Bot Brief Newsletter on Robotics 6/5/2020
"There is no force on earth more powerful than an idea whose time has come." Victor Hugo
Bots in The News: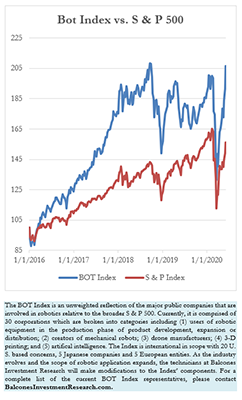 The first week of June proved very favorable to the Bot Index in both absolute and relative terms. The Index gained 7.87% for the week, besting the broad market's 4.91% return by a huge margin by almost 300 basis points. The bots' charge was driven by seven components who experienced double digit increases – three of which returned over twenty percent. For the first time in the Bot Index's history, there were no stocks recording a negative weekly performance.
The best performer for the week was notched by the Chinese auto firm – NIO Ltd. The stock was pushed up over 40% due to the announcement of its May delivery of 3,436 vehicles. The deliveries represented a 215% increase in year to year comparables.
Textron Corp. (up 26.32%) and Oceaneering International (up 22%) are both coming off consecutive double-digit gains over the prior two weeks.
Accuray Inc. rose 17.62% as results of its growing acceptance of its CyberKnife technology. The company's progress in software development for the CyberKnife led Zachs to issue a statement, "Here's Why You Should Add Accuray to Your Portfolio Now."
Raytheon Technology has been boosted during the past few sessions, gaining from $52.73 on May 15th to the current $72.07. The company was awarded a joint $75.4 million contract for the Javelin Missile Defense System with Lockheed Martin.
Both 3D Systems and iRobot have been moving significantly since they both hit new recent lows on April 4th. 3D Systems moved from $6.01 on that date to its current price of $8.11. Similarly, iRobot jumped from $38.07 to $82.00. For the week they gained 10.04% and 11.28% respectively.
AEA Papers and Proceedings:
In the 132nd Annual Meeting of the American Economic Association there were only four articles in the topic entitled, "Empirical Research on Automation and 'Smart' Technologies." While disappointing such a small devotion to what is likely to be the biggest economic event in history, it was even more disappointing that two of the articles came to the same conclusion.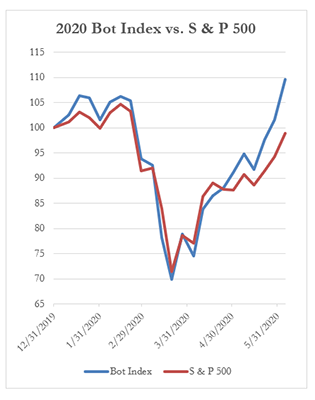 Both the "Competing with Robots: Firm-Level Evidence from France" and " Firm-Level Automation: Evidence from the Netherlands" noted firms that apply the utilization of robotic automation in their production experienced increases in productivity, market share AND expanded employment. These conclusions were based upon actual experiences occurring in France during 2010 and 2015 and between 2000 and 2016 in Dutch firms. The interesting fact, however, is that both articles SUGGESTED that aggregate employment would likely be negatively impacted by market-level robotics. No statistical information supporting this supposition was evident in either article. Corporate Darwinism is real and will occur as the acceptance of robotics expands but to merely suggest that labor will be impaired is, while logical, not empirically proven.
Member: American Economic Association, Society of Professional Journalists, United States Press Association. Institute of Chartered Financial Analysts, Robotic Industries Association, Member IEEE.
The Bot Brief is a weekly newsletter designed for economists, investment specialists, journalists, and academicians. It receives no remuneration from any companies that may from time to time be featured and its commentaries, analysis, opinions, and research represent the subjective views of Balcones Investment Research, LLC. Due to the complex and rapidly changing nature of the subject matter, the company makes no assurances as to the absolute accuracy of material presented.