Weekly Bot Brief Newsletter on Robotics 6/25/2021
"There is no force on earth more powerful than an idea whose time has come."
- Victor Hugo
Bots in The News: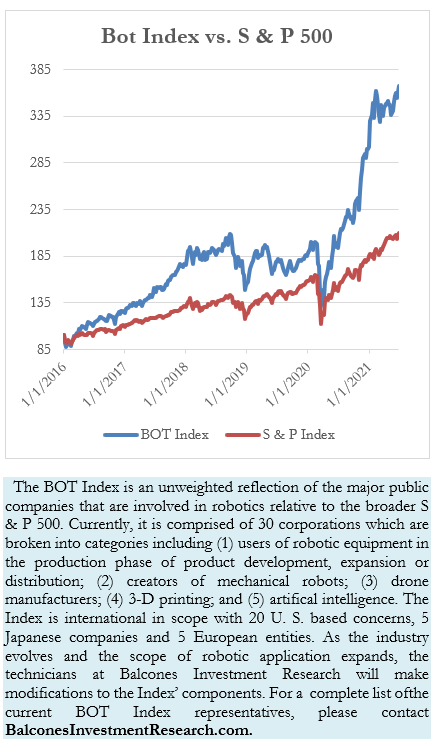 With nine components out of thirty exceeding 5% gains last week, the Bot Index closed at an all-time new high level. The 3.63% gain in the bots far exceeded the 2.74% jump in the broad market. The firm market was attributed to a number of economic factors, the greatest of which was the $1.2 trillion infrastructure bill whose covenants seems to have bi-partisan support.
Leading the bots was the remarkable 40.61% jump by 3D Systems. This 3D printing company announced a joint venture with CollPlant Bio Technologies to create reconstructed breasts following cancer-dictated mastectomies. Using human engineered but plant-based collagen, the companies intend to develop an entire new field of human part replacements. As 3D Systems' management noted last year, it anticipated making mechanical 'breakthroughs' utilizing alternative materials to the traditional metal and plastics used by 3D printers. The implications of the joint venture, if successful, will have a profound effect on the future of reconstructive surgical procedures.
Accuray Inc. jumped almost 8 % following an announcement by the University of Wisconsin's successful treatment of a lung cancer in a dog. In a first, the Veterinary School utilized Accuays' cyber knife which was aided by the addition of the artificial intelligence (AI)-driven Synchrony to the Radixact System. The combination made it possible to track the tumor in real-time as it moved with the dog's breathing and automatically adapted the radiation beam to keep it targeted on the tumor. Precise and accurate radiation dose delivery enabled the entire treatment to be completed in three visits to the school.
Rockwell Automation jumped 5.13% consistent with its announcement that it would be purchasing Plex Systems, the leading cloud-native smart manufacturing software platform, for $2.22 billion in cash. Plex's software solutions help manufacturers streamline and modernize their global operations by leveraging the power of shop-floor data to drive improved production performance.
Textron rose 5.25% following a Zachs article entitled, "Aerospace-Defense Outperforms S&P 500 YTD: 4 Stocks to Buy"
iRobot and Amazon were the only two domestic names that experienced losses for the week. Both companies fell around 2%.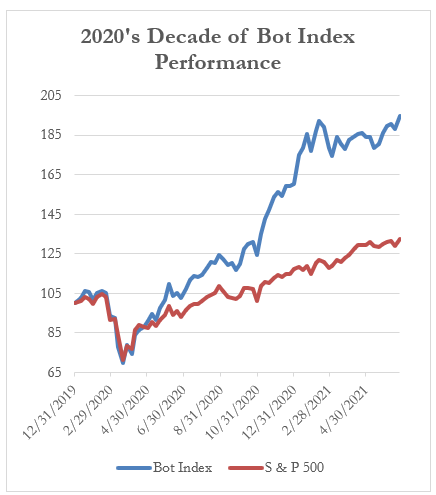 Member: American Economic Association, Society of Professional Journalists, United States Press Association. Institute of Chartered Financial Analysts, Robotic Industries Association, Member IEEE.
The Bot Brief is a weekly newsletter designed for economists, investment specialists, journalists, and academicians. It receives no remuneration from any companies that may from time to time be featured in the brief and its commentaries, analysis, opinions, and research represent the subjective views of Balcones Investment Research, LLC. Due to the complex and rapidly changing nature of the subject matter, the company makes no assurances as to the absolute accuracy of material presented.