Weekly Bot Brief Newsletter on Robotics 5/08/2020
"There is no force on earth more powerful than an idea whose time has come." Victor Hugo
Bots in The News: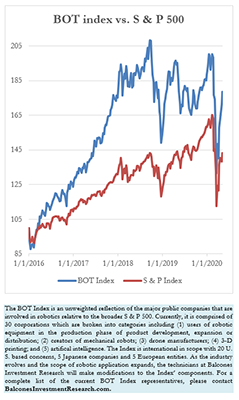 The Bot Index surged past the S & P 500 with a remarkable 4.10% gain for the week. The broad market rose 3.50% as many international and several states 'opened-up' for business as pandemic fears moderated. The Bot Index held five companies that experienced double-digit or near returns for the week. The best performer was NIO Limited who rose 18.55% on top of the former week's 8.2% gain. The company is benefitting from China's return to work and the announcement that its April sales, at 3,155 vehicles, was double that of the prior year's period.
Oceaneering International's stock noted a 13.46% jump as there were hints of hedge fund positions ahead of the company's May 13 earnings release.
NVIDIA Corp. was the subject of several favorable articles during the week that contributed to its 10.51% improvement. Investors Business Daily announced, 'NVIDIA is Near New Buy Point'. Zachs featured 'Why the Earnings Surprise Streak Could Continue for NVIDIA'. Also, on Monday the company announced the acquisition of Cumulus Network whose Linus-based software systems are used in cloud computing applications. The research firm Piper Sandler moved its price target up to $350 (12% above the Friday closing price).
Cognex Corp's 9.75% jump was boosted by an Investors Business Daily interview with Jeremie Capron from the exchange traded fund – ROBO. His discussion on the growth of the computer vision market to $10 billion, led to the article's title of 'How These 3 Artificial Intelligence Stocks are Cashing in on the Robotics Revolution'. Obviously, Cognex was one of the primary beneficiaries of the article.
Finally, iRobot rose 8.84% as the Motley Fool presented a feature entitled, 'Why iRobot Shares Soared 49% in April'. The primary reason appears to be a rebate of $6.6 million in previously paid tariffs. Look for some probable correction in May's treatment of the company's shareholders!
On the negative side of the performance gamut were Accuray Inc. and Ekso Bionics. Accuray's 6% slide was some 'give back' of the prior week's 24.3% jump. Ekso fell another 4.8% and, due to its low price and high volatility, will be removed from the Bot Index next week.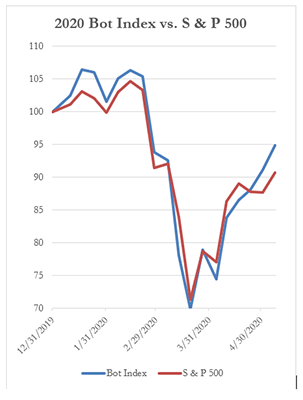 Welcome Bot Index Newbies:
There are three new companies that will be joining the Bot Index. Raytheon Technologies (RTX) has, this week, already replaced United Technologies as a natural reaction to the breakup of UTX. In addition, Ekso Bionics is being replaced by Brooks Automation (BRKS) and Qiagen N.V.'s acquisition by Thermo Fisher Scientific necessitates its substitution by the automotive firm Tesla (TSLA).
Raytheon Technologies:
Raytheon is what is basically left from an amalgamation of Raytheon Corp. and United Technologies with the subsequent spin-off of former UTX divisions of Otis Elevator and Carrier Air Conditioners. The new combination will be a very large aerospace and defense manufacturer with 195,000 employees and an estimated $74 billion in sales. Forbes Magazine recently stated, "No other aerospace company in the world surpasses the new enterprise in the depth or breadth of its competencies."
Brooks Automation:
Founded in 1978 Brooks is one of those quiet companies that simply keeps on producing robotic equipment without making much noise. The company operates through two distinct divisions: Brooks Semiconductor Solutions and Brooks Life Sciences. Following a bad earnings period in 2016, the company has enjoyed a good string of positive production that has noted a 62% EPS growth rate over the past five years and a tripling of stock price over that time.
Tesla:
If Brooks is considered a 'quiet' company, surely the counterbalance is Tesla and its provocative leader Elon Musk. While the company and founder are surrounded by controversy, the extent of the Musk imagination is legendary. Whether it is threatening to move out of California or naming his new offspring, Mr. Musk is the center of polemic activities.
While the company is known for its technology-leaping electric automobiles, it also produces energy generation and storage capabilities that augment its vehicles. It is very near the end game in the battle to produce the first fully autonomously driven automobiles. The company is making serious progress in both revenue flow and EBITDA but has yet to produce earning for shareholders.
Member: American Economic Association, Society of Professional Journalists, United States Press Association. Institute of Chartered Financial Analysts, Robotic Industries Association, Member IEEE.
The Bot Brief is a weekly newsletter designed for economists, investment specialists, journalists and academicians. It receives no remuneration from any companies that may from time to time be featured and its commentaries, analysis, opinions and research represent the subjective views of Balcones Investment Research, LLC. Due to the complex and rapidly changing nature of the subject matter, the company makes no assurances as to the absolute accuracy of material presented.