Weekly Bot Brief Newsletter on Robotics 4/17/2020
There is no force on earth more powerful than an idea whose time has come. - Victor Hugo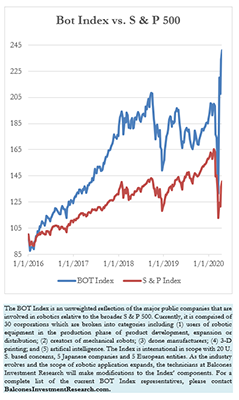 Global markets were buoyed by the optimism surrounding Gilead Science's announcement of the effectiveness of coronavirus treatment results from its Remdesivir drug. The drug, designed in 2009 for the treatment of hepatitis, showed remarkable success in clinical trials at the University of Chicago and may have created support to end the shelter-in-place that has had such a negative impact upon the economy. The markets responded swiftly, with the broad market up 3% while the Bot Index increased 3.13%.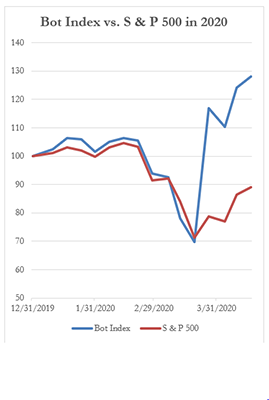 Six of the components within the thirty stock Bot Index gained by double digits, half of those were from Asian companies. The low priced Ekso Bionics led the Index with its 23.38% increase, as the NASDAQ accepted the results of the company's reverse split and retained its listing. The Asian companies were led by Cyberdyne (+16.22%), NIO Corp. (+15.88%) and Yaskawa Electric (+11.10%). NIO Corp's gain follows its 15.41% increase in the prior week. The stock has been responding to March delivery orders which were up 117% month-over-month. The trend in not likely, as the quarter's 3,838 vehicle placements are less than half the deliveries of the 4th quarter of 2019. Amazon gained 16.26% while NVIDIA Corp. jumped 11.17%. Shareholders of NVIDIA were pleased following the Chinese government's approval of its $26.9 billion takeover of Mellange Corp.
The two firms that experienced double digit declines (Oceaneering International -15.09% and Accuray Inc. -11.50%) dipped following their prior week's double-digit increases. Oceaneering International led gainers in the week ending 4-10-2020 with its 44.77% jump and Accuray Inc. had a 15.61% pop in that week.
Telemedicine by Robotics: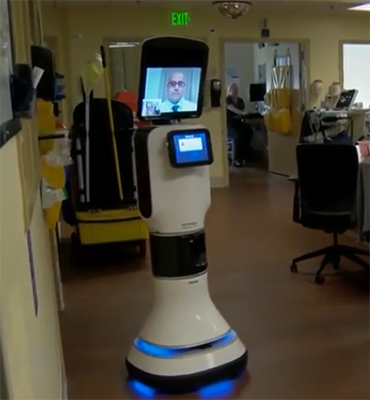 Our hometown hospital, Orlando Health has been utilizing robots more extensively during this coronavirus epidemic. The robots are fully mobile and carry stethoscopes and a live video feed between the patient and the doctor. The byproduct of this part of telemedicine is that doctors' capabilities can be more efficiently utilized, it keeps the doctors safer from contagion and does not require the extensive Personal Protective Equipment currently being required of healthcare workers. So effective has the utilization of robots become that an executive at the hospital classified this period as "The Golden Age of Telemedicine".
Photo courtesy WESH News NBC Orlando.
Member: American Economic Association, Society of Professional Journalists, United States Press Association. Institute of Chartered Financial Analysts, Robotic Industries Association.
The Bot Brief is a weekly newsletter designed for economists, investment specialists, journalists and academicians. It receives no remuneration from any companies that may from time to time be featured and its commentaries, analysis, opinions and research represent the subjective views of Balcones Investment Research, LLC. Due to the complex and rapidly changing nature of the subject matter, the company makes no assurances as to the absolute accuracy of material presented.