Weekly Bot Brief Newsletter on Robotics 4/10/2020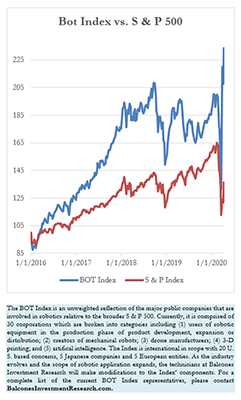 "There is no force on earth more powerful than an idea whose time has come." VIctor Hugo

Bots In The News:
The markets performed extraordinarily well in the Easter shortened week. Both the Bots and the S & P 500 provided returns slightly in excess of 12%. A number of robotic issues generated significant gains over the week. Among the better performers, who exceeded 15% included:
Oceaneering International 44.77%
3D Systems 31.11%
iRobot 26.25%
Textron 18.47%
Lincoln Electric 17.76%
Accuray Inc. 15.61
Nio Corp. 15.41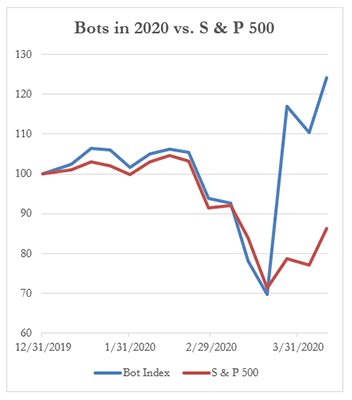 Member: American Economic Association, Society of Professional Journalists, United States Press Association. Institute of Chartered Financial Analysts, Robotic Industries Association.
The Bot Brief is a weekly newsletter designed for economists, investment specialists, journalists and academicians. It receives no remuneration from any companies that may from time to time be featured and its commentaries, analysis, opinions and research represent the subjective views of Balcones Investment Research, LLC. Due to the complex and rapidly changing nature of the subject matter, the company makes no assurances as to the absolute accuracy of material presented.