Weekly Bot Brief Newsletter on Robotics 3/13/2020
"There is no force on earth more powerful than an idea whose time has come" -Victor Hugo
Bots in the News: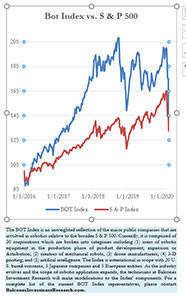 Not even a Friday rally, which was the largest Dow point increase in history, was sufficient to keep the devastation of the coronavirus bear from crushing the robotic stocks. In an unprecedented decline, the bot index fell 15.63%. Twenty companies of the thirty stock index retreated by double digits and only one stock showed a positive return for the week. That stock, Cognex Corp. rose a mere .13% on the report that management has endorsed a $200 million stock buyback program. Qiagen N.V. declined only 1.32% as it was one of the prior week's best gainers following acceptance of a takeover offer from Thermo Fischer Corp. The remaining firms that experienced only moderate declines included the super-caps within the index. Apple, Amazon and Google all retreated tolerably and outperformed the S & P 500's fall of 8.79%.
The major weaknesses (those experiencing declines in excess of 20%) were tallied by six firms of which the worst included the 60% tumble by Oceaneering International. Following that breakdown, were several lower priced companies, a couple of Japanese names and a consistent member of the weakest components of the Index – 3D Systems who fell 23 ½ %.
Performance of the 2020 Bot Index: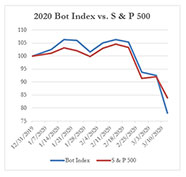 The precipitous decline of the Bot Index in last week's trading forced the index below the performance of the broad market for the year to date. The fact that the mega cap components of the index performed better than the S & P 500 lends some credence that the smaller cap names in the portfolio may experience some degree of recovery. Investors may look at bargains outside of the 'household names' such as Apple, Google and Amazon. As Baron von Rothschild once said, "The time to buy is when there is blood in the streets." Perhaps investors will look to the bots that appeared on the worst performing list as a potential 'bargain basement' for their next round of purchases.
Co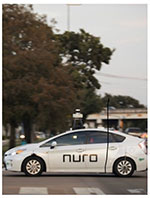 ming Next Week. This Company May Aid In The Fight Against Coronavirus:
Member: American Economic Association, Society of Professional Journalists, United States Press Association. Institute of Chartered Financial Analysts, Robotic Industries Association.
The Bot Brief is a weekly newsletter designed for economists, investment specialists, journalists and academicians. It receives noremuneration from any companies that may from time to time be featured and its commentaries, analysis, opinions and research represent the subjective views of Balcones Investment Research, LLC. Due to the complex and rapidly changing nature of the subject matter, the company makes no assurances as to the absolute accuracy of material presented.