Weekly Bot Brief Newsletter on Robotics 2/7/2020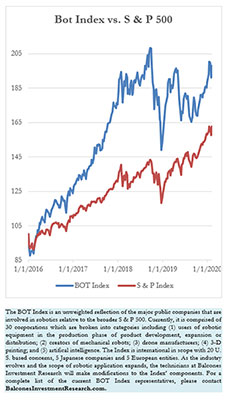 "There is no force on earth more powerful than an idea whose time has come." -Victor Hugo
Bots in the News:
Good economic news and the Presidential impeachment resolve firmed up stocks in the first week of February. Despite continuing concerns that the coronavirus is continuing to spread and the economic implications of placing one of the world's largest economies on hold, markets took a dramatic step forward. The S & P rose 3.17% and the Bot Index gained 3.49% as labor markets in the U.S. exceeded expectations.
For the week, there were only two stocks that comprise the Bot Index in the red. The weakest of those was the 11.57% drop by Accuray Inc.
The decline was likely some profit taking from the 25% and 19% gains in earlier back to back weekly moves. The stock reported an upside earnings surprise on January 31st. The other weaker name was tallied by Northrup Grumman and its 3.51% slide. A weaker than expected guidance from management caused Goldman Sachs to drop its buy recommendation on the stock all the way to a sell category.
There were two bot stocks that recorded double digit returns. Textron jumped 10.49% on a Reuters News report that the company is in talks to purchase Bombardier's private jet business. iRobot gained 16.39% after it reported earnings per share that were almost 60% greater than analysts were expecting. However, the $.70 eps pales in year-to-year comparison of $.88. With revenues up 11% and earnings down, the margin compression is not likely to sooth investors for too long.
The other components that gained above 5% included: NVIDIA Corp., Rockwell Automation, Faro Technologies, Teledyne and Qiagen NV. The increases by Teledyne and Qiagen NV were as a result of earnings achievements that exceeded Wall Street expectations.
Bot Index For the 2020 Decade: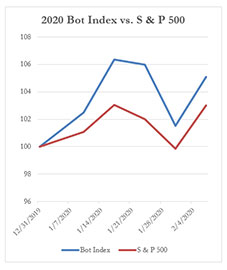 Technological Progress:
Founded on March 7, 1887 as a land grant college, North Carolina State University in Raleigh celebrated its 100th anniversary in 1987 with the groundbreaking of its Centennial Campus. This 785-acre research and economic development campus, adjacent to the primary University's facilities, has become a hub of partnerships between government, education and corporation startups. Located in the Research Triangle that encompasses the University of North Carolina and Duke University, the vastly expanding campus is home to over 34,000 students. As part of the challenge of any such large expanse of space, transportation is a key element. True to its focus on technology NCSU has partnered with the North Carolina Department of Transportation to create the state's first Level 4 autonomous vehicle. The Connected Autonomous Shuttle Supports Innovation (CASSI) is designed to carry 12 passengers on a one-mile route through the campus in a matter of 12 minutes. It operates continuously from 8 am. until 4 pm. every weekday.
While carrying only 12 passengers in such a large student body is a miniscule resolve to a major problem, this initial program can provide knowledge on more extensive transportation opportunities. Transportation experts feel the primary barrier to more extensive utilization of public transportation in the U.S. is to augment the first and last mile. That mile is what CASSI is exploring.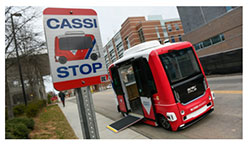 Member: American Economic Association, Society of Professional Journalists, United States Press Association. Institute of Chartered Financial Analysts, Robotic Industries Association.
The Bot Brief is a weekly newsletter designed for economists, investment specialists, journalists and academicians. It receives no remuneration from any companies that may from time to time be featured and its commentaries, analysis, opinions and research represent the subjective views of Balcones Investment Research, LLC. Due to the complex and rapidly changing nature of the subject matter, the company makes no assurances as to the absolute accuracy of material presented.