Weekly Bot Brief Newsletter on Robotics 2/26/2021
"There is no force on earth more powerful than an idea whose time has come." -Victor Hugo
Bots in The News:
The high beta, generally high multiple robotic stocks were significantly punished by investors in last week's trading. The Bot Index declined over 5.6% while the broader market fell just under two and one-half percent. A wide array of bot holdings declined by double digits with only one thing in common, which is that none of the declines were as a result of the reporting of poor earnings. The worst performer was Immersion Corp. whose stock fell 18.17%. The 'best of the worst' was recorded by the Japanese firm Keyence who slid a mere 12%. Both of the electronic vehicle components of the Bot Index declined, with NIO Ltd. falling 16.82% and Tesla sliding 13.58%.
There were only three companies in the entire thirty stock universe that provided their shareholders with positive returns. Oceaneering International jumped 18.59% when its fourth quarter earnings came in at $.02 per share while the consensus of Wall Street analysts was for a $.20 loss. The report substantiated the fact that the company's three out of the past four quarters earnings' beats may indicate a turnaround from the multiyear earnings drought of the company. Shares of Lincoln Electric also benefited, to the tune of 2.34%, following its report of a $1.24 for the fourth quarter, while analysts were looking for the company to come in at $1.06.
Drones to the Rescue:
The above picture is of an engineer and marketing specialist, Alec Momont and his conceptional 'flying toolbox for delivery of emergency supplies'. The Delft University of Technology graduate who now works for Frog Design Agency in San Francisco is heavily involved in the development of a network of delivery drones capable of saving lives. In his promotional video the 100 km/hr drone rockets to a GPS affixed location from telephone acquisition with a built-in electrocardiogram to bring lifesaving relief to a heart attack victim. While the event is certainly staged, it dramatizes the need for quick conveyance of equipment generally only available in a land-based ambulance. Mr. Momont speculates that the EKG supply can occur within one minute versus the typically ten minutes that a traditional 911 call would require. The time savings are estimated to improve the chances of survival of a heart attack from 8% to 80%.
While there are a number of protocols which would have to be undertaken before this type of delivery mechanism becomes practical, it is worth viewing the video on the web to fully appreciate the concept of this new application.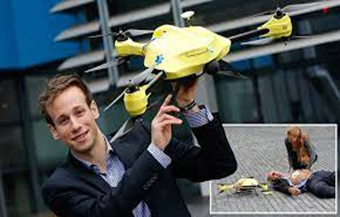 Member: American Economic Association, Society of Professional Journalists, United States Press Association. Institute of Chartered Financial Analysts, Robotic Industries Association, Member IEEE.
The Bot Brief is a weekly newsletter designed for economists, investment specialists, journalists, and academicians. It receives no remuneration from any companies that may from time to time be featured in the brief and its commentaries, analysis, opinions, and research represent the subjective views of Balcones Investment Research, LLC. Due to the complex and rapidly changing nature of the subject matter, the company makes no assurances as to the absolute accuracy of material presented