Weekly Bot Brief Newsletter on Robotics 2/22/2019
"There is no force on earth more powerful than an idea whose time has come" -Victor Hugo
Bot Index Highlights: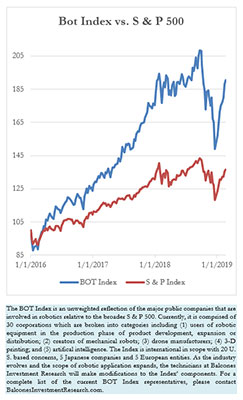 On the heels of optimism regarding a potential resolution of the U.S. and China trade conflict, the Bot Index was boosted by many of its Asian company components. Hiwin Technologies, Cyberdyne and Yaskawa Electric all posted returns exceeding 5% for the week. The Japanese firm Keyence Corp. added 2.91% which allowed the Index to gain 1.26% or double the return of the S & P 500. The Chinese automobile manufacturer NIO Inc. led the Bot Index' gainers with a 10.25% return. The company was subject to a plethora of favorable news reports. In a Zacks' report entitled, "NIO Gains as Market Dips. What You Should Know?" the research firm expressed optimism for the upcoming earnings report set for a March 5th release. The company was also subject to Fast Company Magazine's list of superior firms. The magazine indicated that NIO was the fifth in its register of the most innovative companies in China. Finally, Accuray Inc. gained 7.10% based upon strong demand for its Radixact Systems which were up 8% in gross orders.
The weaker end of the performance spectrum was led by shares of Faro Technologies. Despite reporting earnings of $.33 per share for the fourth quarter, versus a loss in the same quarter last year, the stock plunged 5.85%. Investors used the announcement to capture the 20% move the stock experienced during the month of February. Likewise, the 5.11% decrease in the value of Oceaneering International followed on the heels of the prior week's 12.27% gain. The only other loss of note was from Ekso Bionics that declined 3.67% in anticipation of its February 28th earnings report.
SpaceX Makes Headlines Again:
The authors of the Bot Brief were able to view the launch of SpaceX's latest venture this week as it was set to make history. The successful launch of the SpaceX Falcon 9 carries a Beresheet robotic lunar lander on an eight-week mission to the moon. The venture's founder SpaceIL and the Israel Aerospace Industries had been in the Google Lunar X Prize which was featured in a previous Bot Brief. Unfortunately, the $30 million prize' deadline was at the end of 2018 and went unclaimed. Since no privately funded group has ever attempted a moon landing, the Beresheet venture is a remarkable breakthrough for non-governmental entities. The opportunity was only possible due to SpaceX's ability to reuse pieces and parts of launch material, keeping the cost to $100 million. The landing is expected on April 11th, much longer than traditional flights to the moon. Using gravitational forces instead of fuel, SpaceX has found yet another way to cut costs albeit at a longer flight time.
Member: American Economic Association, Society of Professional Journalists, United States Press Association. Institute of Chartered Financial Analysts, Robotic Industries Association.
The Bot Brief is a weekly newsletter designed for economists, investment specialists, journalists and academicians. It receives no remuneration from any companies that may from time to time be featured and its commentaries, analysis, opinions and research represent the subjective views of Balcones Investment Research, LLC. Due to the complex and rapidly changing nature of the subject matter, the company makes no assurances as to the absolute accuracy of material presented