Weekly Bot Brief Newsletter on Robotics 2/21/2020
"There is no force o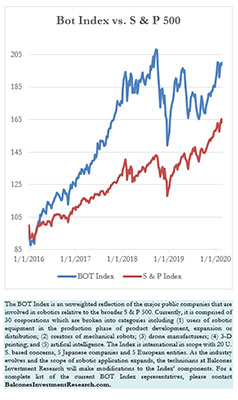 n earth more powerful than an idea whose time has come"
Bots in the News:
Poor economic news and the ongoing impact of the coronavirus cast a pall over Friday's trading, driving an already weakened market further into the red. The S & P 500 slid 1.25% while the Bot Index gave up only .79% for the week. Surprisingly, Faro Technologies paced the bots when it soared 12.87% on massive volume. The earnings call on February 20th was well received by investors despite the appearance of a relatively soft market for Faro products. The management, however, offered up a new strategic focus that prompted trading volume of 491k shares versus the 84k the prior day.
Joining Faro was strong performance (+8.22%) by NIO Corp. following a positive article by InvestorPlace entitled, "NIO Stock is a Coiled Spring". Coiled or not subsequent tweets by investors offered a significantly different appraisal of the Chinese electric car maker. Rockwell Automation rose 4.33% after management announced that the company was completing the acquisition of a public Italian firm and a private concern that will strengthen the company's industrial automation business. Finally, NVIDIA Corp. added another 1.47% to the 15+ gain of the prior week. The positive earnings report led to a favorable stock report from the Wall Street research firm Bernstein. The stock has been on a three-week run that has increased its value by 24%.
Not surprisingly, many of the Japanese stocks showed weakness for the period. Yaskawa Electric dropped 6.61%, Fanuc Corp. fell 4% and OMRON Corp. and Keyence declined 3.4% and 2.28% respectively. However, it was Cognex Corp. that represented the most weakness within the Bot Index. The stock fell 6.16% as, despite announcing fourth quarter earnings gain of 77% year-over-year. Investors were wary of the company's revenue flow which decreased 12% over the comparable quarter. iRobot fell 4.15% as a litigating firm began fishing shareholder, implying misleading reports from management regarding inflated sales figures. Finally, Lincoln Electric slid 4.79% following an 11% earnings decline and a 1% reduction in year-over-year statistics.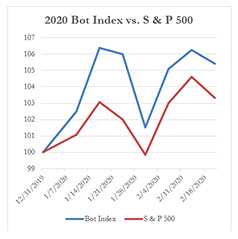 Bot Index For the 2020 Decade:
Member: American Economic Association, Society of Professional Journalists, United States Press Association. Institute of Chartered Financial Analysts, Robotic Industries Association.
The Bot Brief is a weekly newsletter designed for economists, investment specialists, journalists and academicians. It receives no remuneration from any companies that may from time to time be featured and its commentaries, analysis, opinions and research represent the subjective views of Balcones Investment Research, LLC. Due to the complex and rapidly changing nature of the subject matter, the company makes no assurances as to the absolute accuracy of material presented.