Weekly Bot Brief Newsletter on Robotics 2/15/2019
There is no force on earth more powerful than an idea whose time has come" -Victor Hugo
Bot Index Highlights: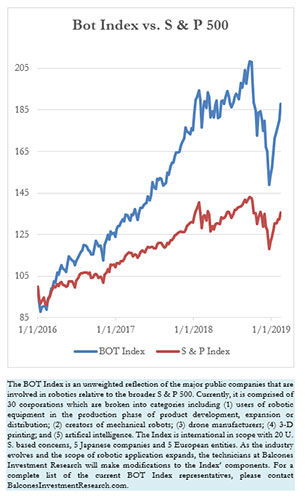 The Bot Index's weekly return of 4.45% was boosted by the 14.61% performance of IRobot. Shares of IRobot continued to glow in the aftermath of its fourth quarter earnings statement. Upon the report, which noted a 17.7% rise in revenue, to over a billion dollars, the stock gained 17% in the first week of February. The surprising strength of the earnings brought forth a plethora of analyst commentary such as, "Are You Looking for a Top Momentum Pick? Why IRobot is a Great Choice" from Zacks and "Eight Small Cap Stocks to Buy for Big Time Growth Potential" from Investor Place and Motley Fool's "Three top AI Stocks to Watch in February: Why Microsoft, IBM and IRobot All Look Like Promising Investments Right Now". With those headlines it is no wonder the stock was Bot Index's best performer!
Other earnings releases during the week contributed to the 12.27% return of Oceaneering International and the 8.10% increase in shares of Cognex Corp. As Zacks noted in its report entitled, "Oceaneering International Surprises Q4 Earnings and Revenue Estimates", the company generated a positive EPS of 7 cents versus expected losses of $.24. Regarding Cognex, the fourth quarter revenue was $193.3 million (up 6% YOY) and EPS were $.26 versus a loss of 16 cents in 2017. For the full year revenues gained 5% and income from continuing operations rose 27%. Furthermore, the company noted that it expended $116 million in engineering research and development. Ekso Bionics also experienced double digit share improvement as its prospects to sell exoskeleton devices in Asia prove promising to investors.
There were only two negative stocks in the Bot Index this past week. Accuray Inc. fell 3.71% as it backed off its double-digit gain in the prior week and NIO Corp. declined 3.39%.
As noted on the Bot Index graph, the bots have experienced a dramatic reversal since bottoming out on December 21, 2018 at a price level of $188.0389. Since that date, the Index has gained 26.34% while the S & P 500 has jumped 14.85%. This week the bots outperformed the broader market 4.45% to 2.50%.
Bots in The News:
Included in Senator Marsha Blackburn's weekly Blackburn Report was her discussion with the Senate Armed Services Committee regarding U.S. cyber strategies to offset the efforts taking place in the militaries of China and Russia in Artificial Intelligence. Specifically, she questioned General Paul M. Nakasone, the senior officer of the U.S. Cyber Command, regarding commitments in this area of defense. General Nakasone responded that, "We see Artificial Intelligence as something of a critical enabler we must adopt at our U.S. Cybercommand. This is where the world is headed in terms of innovation and capability. We as a military fighting force must ensure that we have that enabler. One of the things that I am most proud is that our Special Ops Command has led a lot of the work in AI and how to become a more a more powerful force."
Member: American Economic Association, Society of Professional Journalists, United States Press Association. Institute of Chartered Financial Analysts, Robotic Industries Association.
The Bot Brief is a weekly newsletter designed for economists, investment specialists, journalists and academicians. It receives no remuneration from any companies that may from time to time be featured and its commentaries, analysis, opinions and research represent the subjective views of Balcones Investment Research, LLC. Due to the complex and rapidly changing nature of the subject matter, the company makes no assurances as to the absolute accuracy of material presented