Weekly Bot Brief Newsletter on Robotics 2/14/2020
"There is no force on earth more powerful than an idea whose time has come." Victor Hugo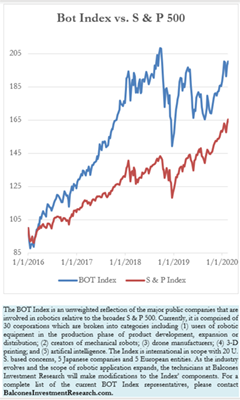 Bot Index Highlights:
Both the S & P 500 and the Bot Index gained in the week that ended in Valentines Day. Both indexes rose over a percentage point, with the broader market leading the way with a 1.58% gain versus 1.12% from the bots. The Bot Index was boosted by a spectacular jump by the chip firm NVIDIA Corp. Investors were heartened by NVIDIA's latest earnings report which caused CNBC's Jim Cramer to quote on his show, "No matter what the current price to earnings or enterprise to sales or even sales analysis, that sucker's going up." That sentiment was, likewise, prevalent on Wall Street as analysts from Merrill Lynch and RBC boosted their stock price targets to $350 (current price is $289.79). The stock reached new highs as a result of its quarter's $1.89 earnings per share. The consensus on the Street was that the figure would be closer to $1.67. Likewise, revenues topped estimates as the actual sales came in at $3.11 billion versus $2.97 billion. The stock jumped 15.18% for the week despite the CFO's pronouncement that they were reducing 1st quarter revenue guidance by $100 million as a result of economic dislocations caused by the coronavirus.
Other significant gainers for the week included 3D Systems and Oceaneering International who gained 8% and 5% respectively. Intuitive Surgical rose a bit over 4% following an Investors Business Daily article that stated, "There have been a number of developments that hold promise for Intuitive Surgical's future." Immersion Corp. increased 6.8% following a story by InvestorPlace entitled, "Seven Micro-Cap Stocks That Could Double" which included Immersion Corp. Finally, Qiagen N.V. gained 4.69% following a favorable earnings report.
There were only two components that lost ground greater than 5% for the week. AeroVironment and Textron led what was a bad week for almost all the defense manufacturers.
Bot Index For the 2020 Decade: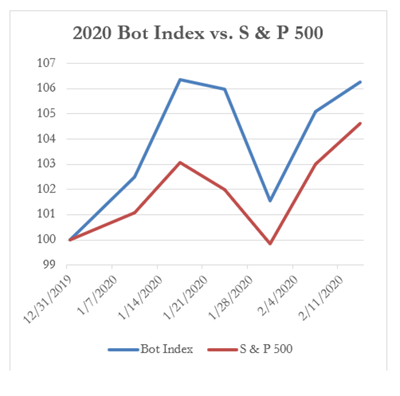 Coronavirus and Robotics:
It's always been said that robots will assume the demeaning, dirty and dangerous jobs that humans shy away from performing. That couldn't be more appropriate in this recent epidemic of the coronavirus in China. Much like the use of robots in the cleanup and radiation measurements of the Fukushima Daiichi nuclear power plant following the 2011 Tohoku earthquake in Japan, China is employing robots in this healthcare crisis. In a Fox News report, China is commissioning robots to deliver supplies to hospitals in need and within hospitals to take inventories of medical equipment and drugs. They are particularly easily retrofitted to perform disinfectant duties that strained medical staffs don't have the time to perform. With the streets nearly empty, robots are seen delivering all forms of supplies to even remote medical facilities.
Member: American Economic Association, Society of Professional Journalists, United States Press Association. Institute of Chartered Financial Analysts, Robotic Industries Association.
The Bot Brief is a weekly newsletter designed for economists, investment specialists, journalists and academicians. It receives no remuneration from any companies that may from time to time be featured and its commentaries, analysis, opinions and research represent the subjective views of Balcones Investment Research, LLC. Due to the complex and rapidly changing nature of the subject matter, the company makes no assurances as to the absolute accuracy of material presented