Weekly Bot Brief Newsletter on Robotics 2/1/2019
"There is no force on earth more powerful than an idea whose time has come." -Victor Hugo
Bot Index Highlights: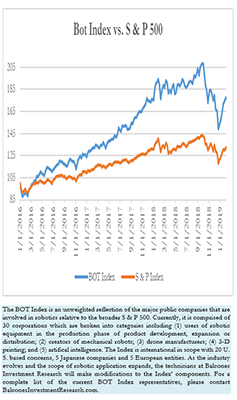 Hindered by the 15.25% slide in shares of Cyberdyne this week, the Bot Brief's five weeks of outperformance over the S & P 500 came to an end. The bots rose 1.38% versus a gain in the S & P 500 of just over 1.56% during the final week of January. Cyberdyne's decline was hardly unexpected given that the stock was up almost 38% in the prior week and had experienced double digit returns in recent trading. NVIDIA's near double digit decrease, however, was a direct result of managements' lowering fourth quarter revenue guidance by half a billion dollars in response to China's economy. Lastly, in the weaker section of the Bot Index' components was AeroVironment whose 5% drop was probably a result of a Zach's article entitled, "Is AeroVironment Outpacing its Aerospace Peers This Year?" While the headline appears apocalyptic, the text of the article was somewhat positive and Zachs maintained its Strong Buy recommendation.
On the positive side the Index recorded gains better than 5% for the week by six of its holdings. The best performer of the bots was NIO Corp., the Chinese electric automobile company that had a recent U.S. IPO debut. The stock rose 18.79% after announcing a $650 million bond issuance and analysts' expectations for fourth quarter revenue gains exceeding 98%. One of the low-price components of the Bot Index, Ekso Bionics, announced it had formed a joint venture with two VC firms out of China. The two companies are contributing $90 million in cash to develop and service the exoskeleton market in China and southeast Asia. In addition, the VC firms were taking a $10 million equity interest in the shares of Ekso, $5 million immediately and another $5 million upon commencement of product shipment. The event could be a lifesaver for the company whose stock has fallen from $6.19 in July 2016 when it was added to the Bot Index to the current price of $1.89.
Bots in The News:
The accounting and advisory firm PriceWaterhouseCoopers PwC just released their outlook for corporate utilization of Artificial Intelligence in 2019. In a survey of over 1000 corporate executives PwC posed questions regarding their firms use and plans for AI deployment. In projecting that AI will provide $15.7 trillion to the economy by 2030, the firm asked executives,
"How far along is your organization with AI". The responses were:
27% Already implemented AI in multiple areas.
20% Plan to deploy AI enterprise wide.
15% Plan to deploy AI in multiple areas.
16% implemented pilot projects within discrete areas.
22% Investigated the use of AI.
To the question, "Who owns AI in the business?":
24% AI Center of Excellence
19% Data and Analytics Dept.
15% Enterprise-wide AI Leader
14% Automation Group
13% Business Functions Area
11% Outside providers
3% Not sure
"Building an AI-ready workforce" the responses were:
60% Implement continual learning initiatives that include AI
56% Develop workforce plan that identifies new skills and roles needed as a result of AI.
47% Change performance and development frameworks to include AI skills.
44% Expand AI talent pipeline with internships, college and university partnerships.
9% Have not yet developed a plan.
"Taking steps toward responsible AI" the survey indicated:
64% Boost AI security with validation, monitoring, verification.
61% Create transparent, explainable, provable AI models.
55% Create internal systems that are ethical, understandable, legal.
52% Improve governance with AI operating models, processes.
47% Test for bias in data, models, human use of algorithms.
3% No plans.
Surveyed executives felt that, "In setting data priorities for 2019":
58% Integrating AI and analytic systems was most important.
49% Ensuring data in AI systems meets regulatory authorities.
47% Identifying and aggregating data from across the organization.
36% Integrating IoT data so it can be used by AI systems.
29% Standardizing, integrating and labeling data.
18% Cleaning data of biases.
Responses on "Top 5 ways AI may pay off" included:
48% Grow revenue and increase profits.
46% Create better customer experience.
40% Improve decision-making.
39% Innovative new products.
38% Achieve cost savings.
Respondents felt that the "Top 5 challenges for 2019" were:
37% Ensuring AI systems are trustworthy.
36% Training current employees to work with AI systems.
36% Managing the convergence of AI with other technologies.
31% Measuring AI's contribution to ROI.
29% Moving AI initiatives from pilot to production.
In summary PwC noted, "In 2019, it's time to get busy and establish your AI strategy. AI will need its own organizational structure and workforce plans: trustworthy algorithms and the right data to train those algorithms; a plan to reinvent the business to grow revenue and profits with AI; and convergence with other existing and emerging technologies. It's an ambitious to-do list. But those companies that set their priorities will also set themselves apart."
Member: American Economic Association, Society of Professional Journalists, United States Press Association. Institute of Chartered Financial Analysts, Robotic Industries Association.
The Bot Brief is a weekly newsletter designed for economists, investment specialists, journalists and academicians. It receives no remuneration from any companies that may from time to time be featured and its commentaries, analysis, opinions and research represent the subjective views of Balcones Investment Research, LLC. Due to the complex and rapidly changing nature of the subject matter, the company makes no assurances as to the absolute accuracy of material presented.
Balcones Investment Research can be reached at its website BalconesInvestmentResearch.com and is headquartered in Florida; with offices in Texas and North Carolina, United States
Cover photo courtesy of The Mirror, UK