Weekly Bot Brief Newsletter on Robotics 11/6/2020
"There is no force on earth more powerful than an idea whose time has come." -Victor Hugo
Bots in The News: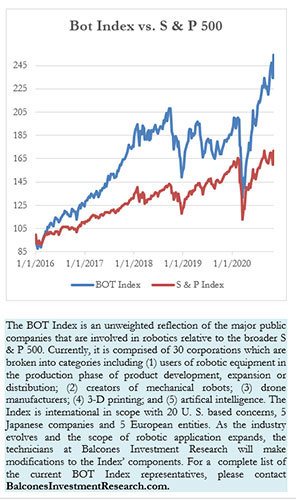 The week of the U.S. elections drove investors to push cash into the markets. The S & P 500 gained 7.32% while the more volatile Bot Index jumped 8.48% to a new high of 254.1019. In comparison, since the two indexes were pegged in 1015, the bots have exceeded the broad index by 83 percentage points. For the year, the Bot Index has gained a rate of 26% greater than the S & P 500.
There were seven of the Bot Index's components that gave investors greater than a double-digit return for the week. NIO Ltd. led the gainers again as it announced a new battery system that will generate 100 kw which will be a part of the company's 'battery swapping system that will allow buyers to up upgrade for newer, more powerful and longer lasting batteries without having to liquidate automobiles. The company announced it had placed 5,055 vehicles in October, a jump of over 100% in year over year deliveries.
NIO Ltd.'s rival Tesla joined NIO as one of the double-digit gainers with a 10.80% return following Musk's $250 per bottle offering of its private label beverage.
Brooks Automation was subject to a Zacks article entitled, "Brooks Automation's Earnings to Grow. Should you Buy?" which suggested the company would have 20% gain in YOY earnings. The company also announced LAM granted the company its 2020 Supplier Excellence Award. The stock gained almost 23% for the week.
Immersion Corp. rose 17.37% following a change in leadership and a report of 3rd quarter earnings of $.11 versus a loss of four cents in the comparable quarter in 2019.
Intuitive Surgical rose 10% following Motley Fool's article entitled, "3 Stocks to Buy and Hold for Decades." The article hinted that the stock could triple in value by 2030.
There were only two negative stocks during the week's trading. The Japanese company Cyberdyne Inc. fell 72 basis points and Accuray Inc. dropped 9 basis points even thought it reported a generally favorable earnings report.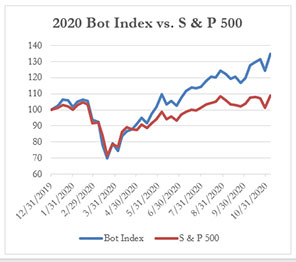 Member: American Economic Association, Society of Professional Journalists, United States Press Association. Institute of Chartered Financial Analysts, Robotic Industries Association, Member IEEE.
The Bot Brief is a weekly newsletter designed for economists, investment specialists, journalists, and academicians. It receives no remuneration from any companies that may from time to time be featured and its commentaries, analysis, opinions, and research represent the subjective views of Balcones Investment Research, LLC. Due to the complex and rapidly changing nature of the subject matter, the company makes no assurances as to the absolute accuracy of material presented.