Weekly Bot Brief Newsletter on Robotics 11/29/2019
"There is no force on earth more powerful than an idea whose time has come." -Victor Hugo
Bot Index Highlights: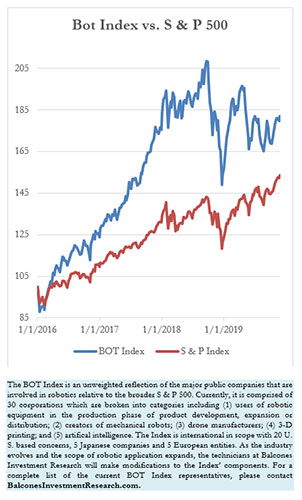 For two weeks in a row the Chinese electric car company NIO Corp. has led the performance of the thirty stock Bot Index. In the prior week, the stock experienced a 7.77% rebound from a significant decline in the week before. This week, fueled by speculation that deliveries in the fourth quarter are increasing, the stock jumped another 17%. This superior performance assisted the Bot Index to expand 1.40% and exceed the broader market's .98% increase for the period.
Following NIO among the better performers was Accuray Inc. who jumped 8.83%. The increase was due to a report that legendary investor Paul Tutor Jones had doubled his holdings of the shares in the second quarter and another 56% in the third.
Other significant gainers included AeroVironment whose stock fortunes jumped 5.03%. The company is due to report earnings on December 3rd and consensus expectations are for an 9.8% increase in revenues and a 3.5% gain in earnings. Shares of Intuitive Surgical rose 4.11% after the FDA approved Synchro Seal and E-100 Generator systems for use as a surgical sealer within the DaVinci procedures. NVIDIA Corp. improved almost 3% following an article by InvestorPlace whose headline, "NVDA Stock May Be the Best-In-Class Among Chip Stocks" and a feature from Zachs, "3 Blue-Chip Tech Stocks to Buy Right Now With U.S. Stocks at New Highs".
Beset by continual lawsuits filed on behalf of shareholders, iRobot Corp. fell 6.34% to lead the stocks that disappointed shareholders in the Thanksgiving shortened trading week.
So How Is the Year Shaping Up:
With only one month to go in 2019, it might be of interest to see how the market and individual names have performed. The broad market has produced an outstanding result thus far, posting a 26% gain. Due to some significant poor robotic performers within the Bot Index, the bots produced 19%. The most significant gainers within the index included:
Apple +71.03%
Teledyne +68.66%
OMRON +62.37%
NVIDIA +62.17%
Yaskawa +49.77%
Lockheed +49.67%
Weakest of the thirty-stock index included:
NIO Corp. -64.92%
Ekso Bionics -56.48%
iRobot -46.43%
Qiagen N.V. -26.98%
Immersion -23.03%
Certainly, it has been a remarkable year so far and December is likely to provide even more drama to the marketplace.
Member: American Economic Association, Society of Professional Journalists, United States Press Association. Institute of Chartered Financial Analysts, Robotic Industries Association.
The Bot Brief is a weekly newsletter designed for economists, investment specialists, journalists and academicians. It receives no remuneration from any companies that may from time to time be featured and its commentaries, analysis, opinions and research represent the subjective views of Balcones Investment Research, LLC. Due to the complex and rapidly changing nature of the subject matter, the company makes no assurances as to the absolute accuracy of material presented