Weekly Bot Brief Newsletter on Robotics 11/27/2020
"There is no force on earth more powerful than an idea whose time has come." -- VIctor Hugo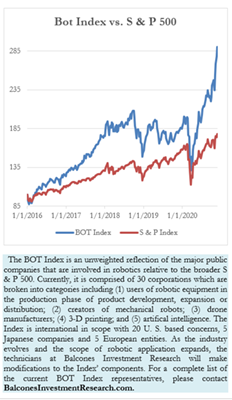 Bots in The News:
The bots scored big in the final week of November. The Bot Index was paced by three issues that experienced double digit returns with another three providing investors over 9% value increase. The Bot Index again bested the S & P 500 by over 220 basis points, recording a gain of 4.45%. For the year to date, the Bot Index has expanded by 54% while the broader index is up a bit over 12 ½ %.
The primary gainer was, again, Tesla, whose near 20% increase pushed it above Berkshire Hathaway to become the 6th largest U.S. company. While not widely known, Tesla has a connection with CureVac that is in phase 2 testing for a Coronavirus vaccine. 3D Systems continues its run with an additional 15.63% jump. The stock is up over 50% since October 30th. The final double-digit increase was noted by the industrial automation and healthcare firm - OMRON who has also been enjoying a strong November ride of over 26%.
NIO Ltd, Immersion Corp., and Accuray provided the Bot Index with gains exceeding 9%. The Accuray gain, at 9.97%, was attributed to a Zacks report on the company's Momentum Score which is a strong "B".
On the weaker side of the Index's equation were five domestic names whose impact was less than 1%. The worst performer was Cyberdyne Inc., the Japanese firm whose minor give-back of 5% was minor in comparison to the 125% increase the stock has experienced since mid-August.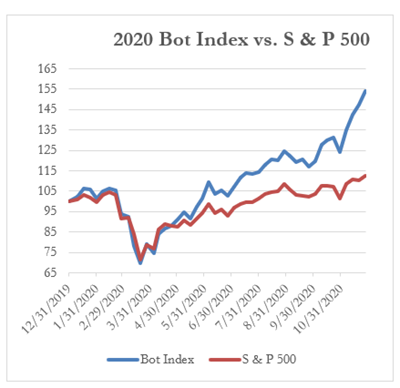 Bot Headlines:
The November 21st issue of The Economist carried a story about a recent contest conducted by the U.S. Defense Advanced Research Projects Agency regarding aerial 'dogfighting' techniques that pitted several defense manufacturers using their latest AI configurations. The winner was then opposed to a human AF pilot. The autonomous pilot won five of five matchups. Part of the takeaways from the exercise was to note that AI Systems, "tend not to be able to convey how they came to a decision, which makes it harder to understand why they may have made a mistake." Clearly, AI was determined to be only as smart as the training it is provided.
Northwestern University reported they have created an AI Covid-19 recognition within chest x-rays. Yet another step in the treatment of the deadly virus.
Wall Street firm – Truist predicts that for every dollar spent during the holiday season, $.42 will flow into the Amazon coffers.
Tesla announced it would expand its October beta testing of fully autonomous driving software in mid-December.
Opteran Technologies announced it has a process to assist autonomous vehicles an alternative to GPS navigation. The process hinges on brain technology that was originally attributed to honeybees and their ability to recall hive-to-flower routing. If successful, the AI attributed to human brain functions may be replicated in lower, more specific functionality.
In a recent Forbes Magazine article, there was a prediction of the ten major economic trends of 2021. One of which was a more personalized relationship management program for corporations to interact with their customers more fully. This hit home as I had just purchased a gift fountain pen from Webson Gill. Within a day of the internet purchase I received the following email from the company:
Your Webson Gill order was gently pulled by our team of experts and placed into a gold-trimmed leather wrapped box where it rests quietly on a pillow stuffed with the finest fibers known to man. Then, a team of six inspectors examined it under a magnifying glass, ensuring it was in perfect condition.

Once the inspection was complete, our veteran polisher (he was previously employed at the Tower of London, where he was responsible for polishing the Queen's jewels) polished it as a quiet hush fell over the warehouse. "This package is getting shipped to Bruce," he whispered. "Take good care of it."

We hope you had a wonderful time shopping at Webson Gill. In celebration, we have placed your name on our wall under the title "World's Best Customer" and assigned you a dedicated parking spot right upfront. We have also hired a pilot to skywrite "Bruce Rocks!" above the Golden Gate Bridge. Thank you for supporting Webson Gill.
Member: American Economic Association, Society of Professional Journalists, United States Press Association. Institute of Chartered Financial Analysts, Robotic Industries Association, Member IEEE.
The Bot Brief is a weekly newsletter designed for economists, investment specialists, journalists, and academicians. It receives no remuneration from any companies that may from time to time be featured and its commentaries, analysis, opinions, and research represent the subjective views of Balcones Investment Research, LLC. Due to the complex and rapidly changing nature of the subject matter, the company makes no assurances as to the absolute accuracy of material presented.