Weekly Bot Brief Newsletter on Robotics 11/20/2020
"There is no force on earth more powerful than an idea whose time has come." - Victor Hugo
Bots in The News: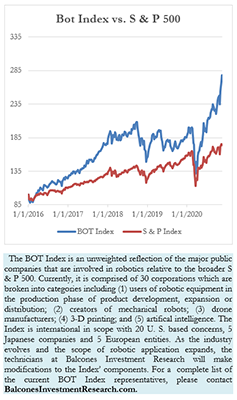 In a change of leadership in last week's trading, several of the market laggards over the past months performed by double digits while the perennial strong performers were weaker than the broad market. Despite negative returns by Intuitive Surgical, NIVIDA, Lockheed Martin, Northrup Grumman, Apple and Google, the Bot Index significantly outperformed the S & P 500. The broad market declined 77 basis points last week however, double-digit strength by Oceaneering International, Cyberdyne, NIO Ltd. and Tesla pushed the Bot Index up by 3.45%.
Tesla gained almost 20% following the report that the company will be included in the S & P 500 on December 21. At that point it will enjoy the capital flow from passive index funds that will automatically purchase the stock in proportion to its market cap standing within the Index. The announcement aided in the 10.53% gain by NIO Ltd. as the two electric vehicle manufacturers moved in sympathy. NIO was also subject to Barron's Newspaper's comment that EVs were 'ready for prime time' and Benzinger's inclusion of the company in a comment that the stock was 'a must own growth stock'.
AI and Robotic Applications in the News:
An IDC report regarding the utilization of Artificial Intelligence found three-quarters of commercial enterprise applications could lean on A.I. by next year alone. Similarly an Analytics Insight report projects more than 20 million available jobs in artificial intelligence by 2023.
According to Gus Walker, director of product at Veritone, an A.I. tech company based in Costa Mesa, California, that in 2021, there will be growing opportunities for A.I. and ML specialists in public safety, banking and fintech, and healthcare. Interestingly, we were subject to a presentation last week from a fintech firm that was using high speed algorithms to sort through purchased leads to efficiently and effectively cull out poor prospects. Success rates and lower costs were immediate byproducts of the AI's speed.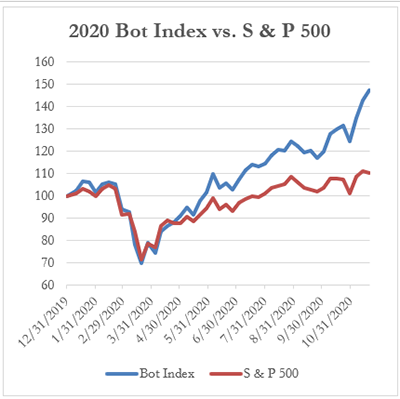 Since sleep is a panacea for many maladies that patients in hospitals face. We are all familiar with the frequency at which patients are awakened by nurses that need to frequently go through their 'rounds' and check patients' vital signs. In a recent feature in Nature Partner Journals Digital Medicine, a research team reviewed 24.3 million vital sign measurements, and using AI as a predictive tool, many a patient's overnight nurse visits could be eliminated. The patient has improved rest time and the nurses' workload could be reduced as much as 25%.
In a Forbes Magazine feature entitled, "It's Managers, Not Workers, Who Are Losing Jobs To AI And Robots, Study Shows." a surprising conclusion was reached by Lynn Wu, professor at The Wharton School and AIB Affiliated Faculty, who pointed out that "contrary to the popular notion that robots will replace human labor, we find robot-adopting firms employed more people over time. Any displacement of labor came from firms that did not adopt robots. These non-adopting firms actually lost their competitiveness — and they had to lay off workers." Details of Wu's study, based on looking at the performance of firms that purchased AI and robots over a 20-year period in Canada, will be published in the INFORMS journal Management Science.
Once again from our Florida headquarters we enjoyed viewing another successful launch of the SpaceX Crew Dragon vehicle on its way to the Space Station. For the entire month of November there will be at least 10 international ventures into outer space. Certainly, the revitalization of exploration, defense, and communication in space is energizing a whole new industry, providing jobs and knowledge of our universe.
Member: American Economic Association, Society of Professional Journalists, United States Press Association. Institute of Chartered Financial Analysts, Robotic Industries Association, Member IEEE.
The Bot Brief is a weekly newsletter designed for economists, investment specialists, journalists, and academicians. It receives no remuneration from any companies that may from time to time be featured and its commentaries, analysis, opinions, and research represent the subjective views of Balcones Investment Research, LLC. Due to the complex and rapidly changing nature of the subject matter, the company makes no assurances as to the absolute accuracy of material presented.