Weekly Bot Brief Newsletter on Robotics 10/30/2020
"There is no force on earth more powerful than an idea whose time has come." -- Victor Hugo
Bots in The News: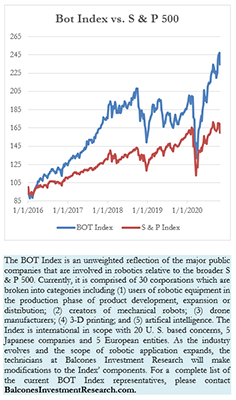 In the worst market week since mid-March, the S & P 500 reacted to resurgence of Coronavirus in the U.S. and a number of European nations. Consequently, the broad market fell by 5.65% while the Bot Index declined a bit less (-5.27%) in the final week of October.
There were only three stocks within the 30-company index that showed a week-over-week gain. The gainers were led by the 12.59% jump in shares of NIO Ltd. The company has enjoyed remarkable strength in recent months and traded at an all-time high last week. That made its 12-month trading range at $1.58 to $32.20 and illustrates an incredible year for the Chinese electric car company. The stock overcame market headwinds this week after Morgan Stanley raised both earnings and price targets for the company. Consistent with the upgrade, the company announced it had achieved a milestone in production with the first month of a 5,000-car delivery. Certainly, the Chinese government's plan to phase out all gas burning vehicle by 2035 did not hurt.
The two other gainers for the week included Textron whose 1.73% improvement came after the company reported a $.53 per share 3rd quarter earnings report which eclipsed Wall Street estimates of $.35 and Fanuc Corp. who jumped 2.87%.
There were two component companies that fell by double digits during the week. 3D Systems, who had been the prior week's best performer (13.15% return), fell 25.72%. An analyst with William Blair suggested that the stock's move from $4.65 to $7.66 during October was unsupported by fundamentals and based upon the broad concept that Tesla would be using 3D printing capabilities in its general production.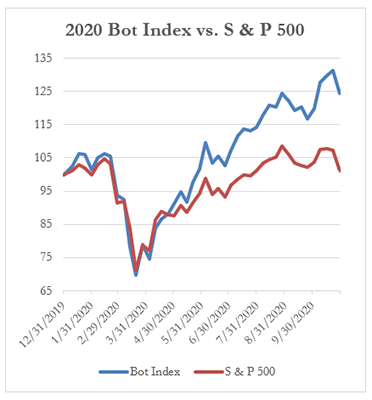 The other double-digit decliner was Raytheon Technologies who was issued a subpoena on October 8th alleging failure of financial controls. The stock came under heavy fire, dropping shares 13.19% after a slew of class action law firms jumped on the subpoena release, indicating an abundance of future litigation.
Other notable losers included Intuitive Surgical who fell 9.35% despite news that the company had created and funded a $100 million venture capital commitment to invest in minimally invasive health care procedures. Teledyne fell 9.19% to round out the major decliners.
Member: American Economic Association, Society of Professional Journalists, United States Press Association. Institute of Chartered Financial Analysts, Robotic Industries Association, Member IEEE.
The Bot Brief is a weekly newsletter designed for economists, investment specialists, journalists, and academicians. It receives no remuneration from any companies that may from time to time be featured and its commentaries, analysis, opinions, and research represent the subjective views of Balcones Investment Research, LLC. Due to the complex and rapidly changing nature of the subject matter, the company makes no assurances as to the absolute accuracy of material presented.