Weekly Bot Brief Newsletter on Robotics 10/23/2020
There is no force on earth more powerful than an idea whose time has come." -Victor Hugo
Bots in The News: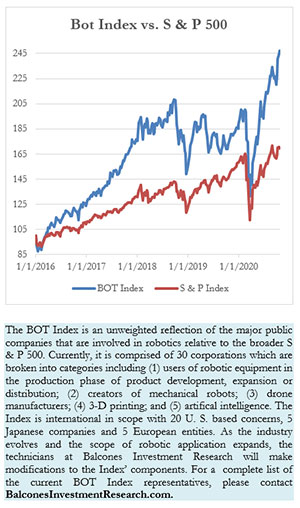 The Bot Index continues to surge as an across-the-board finish to the week saw the Index rise 1.15%. To put that into context, the S & P 500 fell 53 basis points. Whether it was the Asian stocks, the 3D printing, energy, social tech or drones, all sectors of the Index provided a contribution to the bot's outperformance of the broad market.
The best performer for the week was 3D Systems whose 13.15% return caps a spectacular month that started at $4.65 and closed this week at $7.66. The impetus for the recent investor interest appears to surround speculation that Tesla has indicted it would utilize 3D printing in more of its production.
Three Asian stocks boosted the Index with Cyberdyne again leading the pack with its 17.11% jump. Fanuc and OMRON each contributed 7.21% and 3.74% respectfully.
Speculation surrounding Oceaneering International's Wednesday report of earnings announcement drove shares up 7.03% and drone manufacturer AeroVironment rose 3.45%. AeroVironment has reported a number of government contracts of late, driving the stock from $61.72 to the recent $77.59 since late September.
Lincoln Electric Co. jumped 4.64% following management's decision to increase dividends by 4%.
On the weaker components both Tesla and NIO Ltd. fell by over 4%. Both companies have been soaring of late until Tesla announced this week it would be recalling at least 29,000 cars in its China market for suspension issues. It is felt that NIO fell in sympathy with its electric vehicle cousin.
The major loser was surprising when its stock declined almost 6% following a dynamic earnings announcement. The Street had been expecting iRobot to generate $1 in third quarter earnings. When it came in at $2.58 most would have expected the stock to surge on the favorable report. However, despite analysts' rather tepid expectations, the stock has risen significantly in recent trading weeks and investors took the good news to lighten exposure.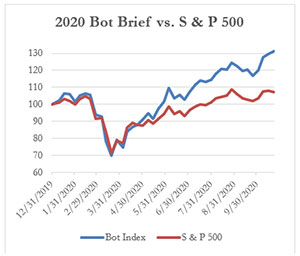 Bots in The News:
Technological innovation has been critical to the development and application of robotics. In an interesting article in this month's American Economic Review, authors David Autor, David Dorn, Gordon Hanson, Gary Pisano and Pina Shu explored the impact of Chinese competition upon U.S. innovation through patent analysis. They set out to review three decades of U.S. patents in the manufacturing sector to develop their theories regarding innovation. Their conclusion was that "rising import exposure intensifies competitive pressure, reducing sales, profitability and R & D expenditures at U.S. firms. U.S. patent production declines in sectors facing greater import competition…innovation response of U.S. firms more exposed to rising market competition from China has been substantially and unambiguously negative."
Certainly, the impact of competition in any economic sector is likely to adversely impact margins and thus profitability. Ironically, perhaps more dynamic utilization of robotics in the domestic manufacturing sector would counter cheaper imports from China, thus narrowing their competitive price advantage. It then becomes a chicken and the egg situation where capital flows into technological advancement to offset competition is muted by the impact of diminished earnings reinvestment rates. However, with low interest rates, might the bond market serve as the answer to the needed capital flow?
Member: American Economic Association, Society of Professional Journalists, United States Press Association. Institute of Chartered Financial Analysts, Robotic Industries Association, Member IEEE.
The Bot Brief is a weekly newsletter designed for economists, investment specialists, journalists, and academicians. It receives no remuneration from any companies that may from time to time be featured and its commentaries, analysis, opinions, and research represent the subjective views of Balcones Investment Research, LLC. Due to the complex and rapidly changing nature of the subject matter, the company makes no assurances as to the absolute accuracy of material presented.