Weekly Bot Brief Newsletter on Robotics 10/11/2019
"There is no force on earth more powerful than an idea whose time has come." -Victor Hugo
Bot Index Highlights: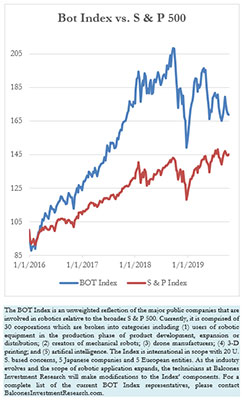 As we have noted over the past month, the market has become fixated on the potential for a positive resolution over the U.S./China trade dispute. Early weakness in the week gave way to a spectacular Friday which could have been better if investors hadn't feared the trade optimism was excessive. What had been a 55 point S & P gain at mid-day dwindled to a 1.21% increase or 32.14 points at the close. For the week the markets for both the S & P and the Bot Index were virtually flat.
There were six Bot stocks that experienced increases of 3% or greater. The strongest stock for the week was Offshore International, whose 9.20% jump was attributed to increasing destabilization in the Middle East. Friday's missile attack on an Iranian oil tanker caused crude prices to jump 2%! Two-low priced issues, Cyberdyne and Immersion Corp., rose 7.79% and 5.09% respectively. Apple and AeroVironment's respective 4.05% and 3.60% increases were probably due to China activities. Finally, Rockwell Automation gained 3% after it announced a joint venture with Schlumberger regarding the oil and gas automation company entitled Sensia.
Of the weaker issues Qiagen N.V. declined 16.29% after reporting weaker than expected 3rd quarter sales and the surprise announcement that the Chairman and CEO of some 27 years was resigning. iRobot fell 4.81% following a Raymond James downgrade to 'underperform'. The remaining weakness within the Bot Index was from two Asian companies whose markets had closed prior to Friday's optimism over relaxed trade fears.
Wall Street and Robotics:
Back in September of 2015 Roger Mitchell, the Managing Editor of the CFA Institute Magazine, was kind enough to place an article the Bot Brief wrote as its cover story. The piece was entitled Droidonomics: Robotics Versus Investment Management? In that production we noted that "Trends in information technology, artificial intelligence, and robotics will combine to have a revolutionary economic impact, and changes will hit home sooner than many would like to believe. Investment professionals need look no further than the rise of robo-advisors for confirmation that no industry or sector can be considered safe from the coming robotics-driven transformation." Interestingly, flash forward to the October 5th-11th 2019 issue of The Economist where an article entitled Masters of the Universe – How Machines are Taking over Wall Street was the cover of that magazine. Within the text of the two pieces regarding the cover story, the authors went into how robotics and AI were dramatically changing how funds are managed. In comprehensive detail, the articles noted how stock trading has been computerized and how securities selection is increasingly being conducted by algorithms with the intent of creating outperformance. Indeed, the feature noted that passive equity assets had exceeded those of managed portfolios last month. While the article rightfully noted the good aspects of droidonomics in reducing commission costs and superior data crunching capabilities, it also expressed concerns of the removal of human intervention and the possible concentration of investment assets that could lead to 'flash crashes' in the future. Also, this week the ETFdb.com blog cited AllianceBernstein Holding company's introduction of "a robot with the capability of executing corporate bond trades directly with bots at dealer counterparties. The firm debuted the system in August and completed three trades with similar digital assistants at Citigroup, Morgan Stanley and the Royal Bank of Canada." Truly, the age of intellectual automation is rampant on Wall Street.
What the two feature articles failed to emphasize was the investment opportunities that these new tools provide to investors. Both noted the vast expansion of robotic acceptance and capabilities but didn't mention that with that amount of application, there must surely be investment prospects within those companies that produce or apply those tools. In contrast, our CFA Institute article ended with, "Certainly, changes driven by robotics will have an impact on our whole industry, for better or worse. But the changes will come with significant investment opportunities that may exceed those of the dot-com era and the current social media phenomenon. Who knows what robotic innovation may be incubating even now in some teenager's basement that will provide investors with a new Facebook, Google or eBay?" The two Chinese symbols that translate into 'crisis' individually are 'danger' and 'opportunity'. The Bot Brief recognizes that robotic trading and stock selection represents bot danger to some yet opportunity for others.
The Bot Brief celebrates its 100th edition on the RIA Website!!
Member: American Economic Association, Society of Professional Journalists, United States Press Assn. Institute of Chartered Financial Analysts, Robotic Industries Association.
The Bot Brief is a weekly newsletter designed for economists, investment specialists, journalists and academicians. It receives no remuneration from any companies that may from time to time be featured and its commentaries, analysis, opinions and research represent the subjective views of Balcones Investment Research, LLC. Due to the complex and rapidly changing nature of the subject matter, the company makes no assurances as to the absolute accuracy of material presented