Weekly Bot Brief Newsletter on Robotics 1/29/2021
"There is no force on earth more powerful than an idea whose time has come." -- Victor Hugo
Bots in The News: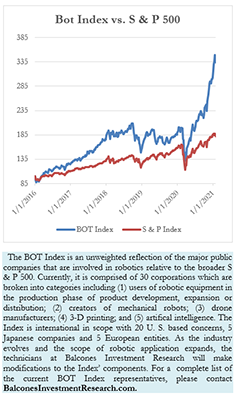 In something of a bizarre week of trading, highlighted by the short squeeze on GameStop and the controversy regarding RobinHood, the bots were soundly crumbled by investors. The Bot Index fell 4.61% versus the 3.31% decline experienced by the broader S & P 500. Four components of the Bot Index retreated by double digits while only one stock, iRobot showed any significant strength.
iRobot followed up its three weeks of consecutive strong performance with a 21.39% jump in the final week of January. The moves have carried the stock from $80.29 to the closing price of $120.10. This week's improvement was due to a few news items including: Motley Fool suggested that the significant short interest in the stock could entice traders to enter the stock forcing another 'short squeeze' similar to that which propelled GameStop to astronomical levels; the company announced it has filed a patent infringement lawsuit against Shark Ninja, seeking to exclude certain products from entry into U.S. markets; and finally, Zacks wrote an article entitled, "Why iRobot is Poised to Beat Earnings Again" (when it reports on Feb 10th).
Regarding the losers both Oceaneering International and AeroVironment simply posted declines of 19.83% and 13.87% respectively as a result of their recent stock strength.
Hiwin Technologies declined 12.50% primarily due to the overt threats by China regarding the future independence of Taiwan. The region has noted provocative military activity as China repeatedly claims the island is a part of their sovereignty.
Brooks Automation's recent strength was interrupted by its 10.28% slide despite articles written later in the week lauding the company's future prospects. The Motley Fool wrote, "3 Stocks Poised for Huge Growth Over the Next Decade" and Zacks projected, "4 Top Electronic Stocks to Buy From a Prospering Industry".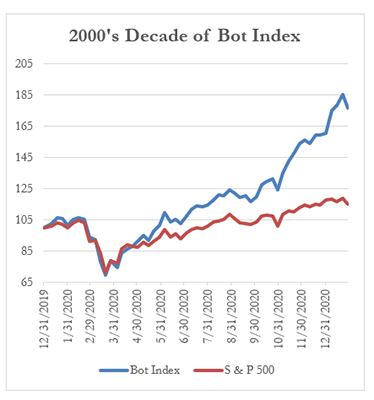 Semiconductor Shortage:
While I have been reading a book by Robert Ludlum (copywritten in 2002 and entitled, The Paris Option) about an alternative to silicon computer chips, I fast forward to today when there is mention of a shortage of semiconductor chips. In the fictional novel, the fate of silicon-based chips was replaced, in dramatic style, by a DNA carbon-based computer driver that seems a precursor to today's artificial intelligence. In real time, there have been indications of an urgent need for automobile-based processors. Evidently today's automobiles require at least 100 million lines of code and as EV's and autonomous vehicles come to the forefront, there well may be 500 million lines of code.
With the 2020 pandemic in mind, many car manufacturers reduced their inventories of chips, expecting demand to slow. They should have listened to their in-house economists and recognized that the demand for automobile travel may actually increase during the later stages of the COVID-19 crisis. While April was dismal, the bounce back in U.S. automobile travel exploded in the fall with October reaching 259,029 million miles. In such, the demand pickup in the autumn months caught supply chain managements by surprise, leading to a rush for inventory….particularly in chips.
As we noted above the current posturing by China regarding the independence of Taiwan, it should be noted that Taiwan is one of the world's largest suppliers of semiconductor chips in the world. The Taiwan Semiconductor Manufacturing Company is the global leader in independent chip production and was recently touted by JP Morgan's Ruchir Sharma who wrote that "pound for pound, [Taiwan] is the most important place in the world." While it is unlikely that the company can ramp up production to allay supply chain bottlenecks, the company has announced it will spend $28 billion in capex in 2021 to expand production.
Member: American Economic Association, Society of Professional Journalists, United States Press Association. Institute of Chartered Financial Analysts, Robotic Industries Association, Member IEEE.
The Bot Brief is a weekly newsletter designed for economists, investment specialists, journalists, and academicians. It receives no remuneration from any companies that may from time to time be featured in the brief and its commentaries, analysis, opinions, and research represent the subjective views of Balcones Investment Research, LLC. Due to the complex and rapidly changing nature of the subject matter, the company makes no assurances as to the absolute accuracy of material presented.