Weekly Bot Brief Newsletter
Balcones Investment Research celebrates its 200th placement of the Bot Brief on the A3 Website
Bots in The News: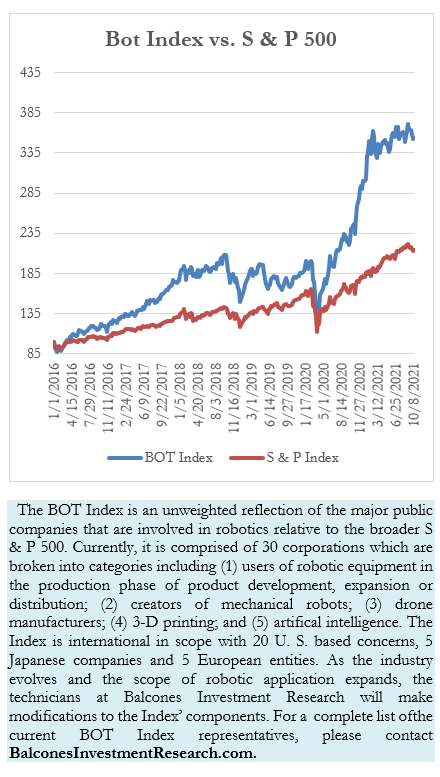 Despite intraweek turbulence, both the Bot Index and Standard & Poors 500 produced benign weekly performances. With none of its components experiencing double-digit positive or negative results, the weekly tally of the Bot Index was a mere positive 19 basis points. Five of the thirty components had gains of over 3%, with the largest increase reported by Northrup Grumman. The stock jumped nearly 8% following an Investors Business Daily article entitled, "You Can't Buy SpaceX Yet, But These Space Stocks are up for Grabs." The feature noted opportunities presented following the company's purchase of rocket maker Orbital ATK in 2018.
Oceaneering International continued its recent climb another 3.76% as oil prices bumped up to $80 on WTI. The strength of the company's near doubling since 12/31/2020, caused Zacks to feature the stock in a research report entitled, "Top Ranked Momentum Stocks to buy for October 4th."
Following closely behind OII's performance, shares of Raytheon Technologies increased 3.59%. The company was awarded a $358 million Navy contract which prompted Jim Cramer's The Street.com to announce, "Buckle Up, Raytheon Technologies is Ready for Takeoff.
The major decliners within the bots were several of the Japanese companies who continue to underperform. OMRON Corp. and Fanuc Corp. fell 5.69% and 8.16% respectively.
Other losers included 3D Systems (-3.87%), Accuray Inc. (-3.94%), Teledyne (-3.28%) and Brooks Automation (-3.75%).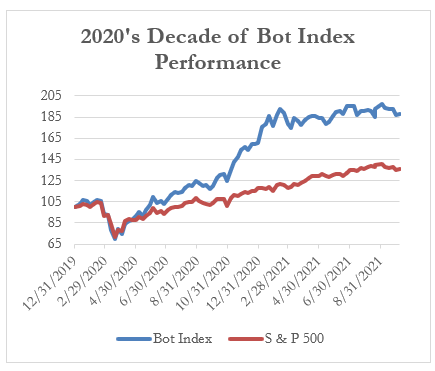 Howdy Tesla; Patent Power:
Last week, it came as no surprise that Elon Musk announced that Tesla will move its corporate headquarters to Austin (where Balcones Investment Research maintains its Texas office). The move involves personal decisions by Mr. Musk but does follow such recent California exiting organizations as Oracle and Hewlett Packard Enterprise Co.
In the September 2021 issue of The American Economic Review Insights, in an article by Professor Bryan Kelly (Yale), Dimitris Papanikolaou (Kellogg), Amit Seru (Stanford) and Matt Taddy (Amazon) entitled "Measuring Technological Innovation over the Long Run" the authors analyzed the impact of patents on technological breakthroughs that produced a significant consequential impact upon the economy as a whole. Looking back to the 1880's to current times, the authors reviewed the nature of patents and their impact upon future patents. They began their tome with, "Over the last two centuries, real output per capita in the U.S has increased substantially more than the growth of inputs to production, such as the number of hours worked, or the amount of capital used. Thus, much of economic growth is attributed to improvements in productivity." Their analysis noted the impact of breakthrough patents that created three major technological waves over the past hundred years. In their analysis they uncovered the total patents per capita at .7 per thousands of populations in 2010, is more than double the level of 1980. This might lead to the concept of future increases in productivity.
A couple of decades ago our friend Chris Rowane, a former fund manager at the Huntington Funds, began to monitor and score the amount of patent approvals granted to various companies in the Mid-Cap universe. His theory, not unlike the findings of Kelly et al, was that certain companies patents could provide some 'breakthrough' technological advances and thus a competitive advantage. His fund performed well and grew to over $100 million within a few years. Certainly, there is a degree of investment relevancy in the analysis of companies and their patent approvals
Member: American Economic Association, Society of Professional Journalists, United States Press Association. Institute of Chartered Financial Analysts, Robotic Industries Association, Member IEEE.
The Bot Brief is a weekly newsletter designed for economists, investment specialists, journalists, and academicians. It receives no remuneration from any companies that may from time to time be featured in the brief and its commentaries, analysis, opinions, and research represent the subjective views of Balcones Investment Research, LLC. Due to the complex and rapidly changing nature of the subject matter, the company makes no assurances as to the absolute accuracy of material presented.