Weekly Bot Brief 10-1-2021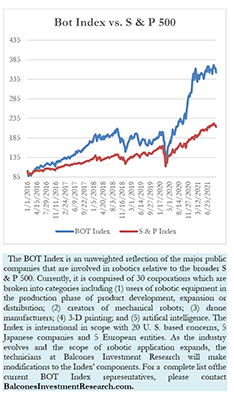 There is no force on earth more powerful than an idea whose time has come." Victor Hugo
Bots in The News:
As in the past few weeks, the pronounced weakness in the Asian holdings within the Bot Index restrained it from exceeding the return of the S & P 500. With three Asian companies falling by double digits this week, together with Cyberdyne's 9.44% loss and OMRON Corp's 6.42% decline, the Bot Index declined 2.86%. Hiwin Technologies led the decliners with its 12% slide but was closely followed by Yaskawa Electric who dropped 10.75% and Keyence Corp. that experienced a 10.18% retreat. Consequently, the Bot Index fell 2.86% while the S & P 500 declined 2.21%.
One of the major contributors to the Bot weakness was one of its traditionally strongest components. NVIDA Corp. fell over 6% as concerns about the rapid ramp up of chip manufacturers led some investors to predict a market glut by 2023.
It was also noteworthy that among the weaker names in the Index, Google and Amazon were included. Each fell over 4% as investors have begun to look into the larger cap robotic names as sources of funds during the final week of the third quarter.
There were only three gainers of any consequence within the Index. Oceaneering International's 8.80% uptick was a result of the spiking oil prices and punctuated by a Wall Street firm's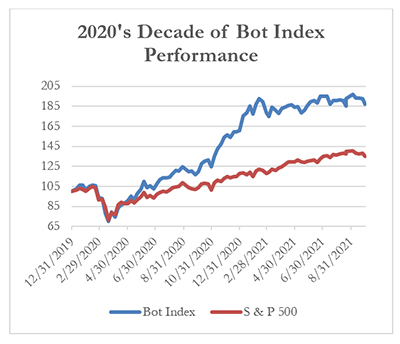 research report that suggested that OII's bottom line is likely to jump 140% year over year due to the energy industries' outlook.
Accuray Inc. rose 4.37% as it reported a French health-care concern had purchased its Radixact System for cancer amelioration. The announcement followed another System purchase by a Japanese hospital which drove the price up 4.29% in the prior week.
AeroVironment shook off its three-week losing streak by posting a 3.38% gain. The increase was attributed to the purchase of one of its autonomous ground-based robotic vehicles. AVAV's international subsidiary - Telerob, develops advanced unmanned ground robotic solutions which safely and effectively perform a variety of dangerous missions using specialized precision manipulators with autonomous functionality and intuitive user operation.
Results for the First Three Quarters of 2021:
The analysts at Balcones Investment Research ran a special Thursday (EOM) run for the end of the third quarter. Of the thirty components of the Index, there were twelve stocks that had negative performance, five of which had double digit declines and eighteen stocks with gains. The top ten returners having double digit gains and one with triple digit increases. One stock, NVDIA recorded a 4 for 1 stock split on July 20th. In the aggregate, the Bot Index gained 16.59% while the S & P 500 rose almost 16%.
Top Ten Bot Stocks YTD
Oceaneering Intl. 67.55%
NVDIA 58.63%
Google 52.14%
Brooks Automation 51.63%
Textron 44.55%
Intuitive Surgical 21.52%
ABB Ltd. 19.33%
Northrup Grumman 18.23%
Rockwell Automation 17.26%
Bottom Ten Bot Stocks YTD
Cyberdyne -45.64%
Immersion Corp. -39.42%
NIO Ltd. -26.88%
Hiwin Technologies -19.51%
Fanuc Corp. -10.73%
Faro -6.82%
Accuray -5.28%
Lockheed Martin -2.87%
Yaskawa Electric -2.82%
iRobot -2.29%

Member: American Economic Association, Society of Professional Journalists, United States Press Association. Institute of Chartered Financial Analysts, Robotic Industries Association, Member IEEE.
The Bot Brief is a weekly newsletter designed for economists, investment specialists, journalists, and academicians. It receives no remuneration from any companies that may from time to time be featured in the brief and its commentaries, analysis, opinions, and research represent the subjective views of Balcones Investment Research, LLC. Due to the complex and rapidly changing nature of the subject matter, the company makes no assurances as to the absolute accuracy of material presented.