Webinar Examines Business Automation and Manufacturing Opportunities in Energy Sector
v style="margin: 0in 0in 0pt">ANN ARBOR, Michigan (October 14, 2009) – "Automation & Manufacturing Opportunities in Renewable & Alternative Energy" is the topic of a new RIA webinar, November 13, 2009. This free webinar is led by Mark Senti, President, Advanced Magnet Lab (and bona fide automation expert with years of integration experience) to explain the issues. He covers where the industry is and where it is going, with specific examples for wind and solar applications.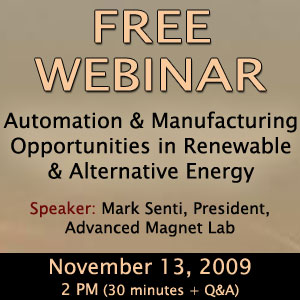 In a recent market study from Robotic Industries Association, "Market Opportunities in the Wind Turbine Industry," it is noted that increasing demand is putting stress on the supply chain. According to the study, "quality control is not yet an integral part of production . . . cracks all too frequently appear in blades, and misalignments and assembly errors can result in mechanical failure." (RIA members can download a free copy of the market study from the Robotics Online Member Control Panel.)
"Due to the recent changes in the economy, environment and commitment to energy independence…the business landscape is quickly changing causing most businesses to revisit their business model," said Senti. "All these factors combined with a rapidly emerging renewable energy industry provide tremendous opportunities for businesses looking to transition and (or) grow their markets."
A more mature but still growing solar energy market has already embraced many automation solutions to increase quality and lower production cost. Opportunities within photovoltaic fabrication processes are numerous for robot and automation companies looking for new customers.
"There are a number of economic and government drivers to be aware of in the renewable energy market," said Senti. "Automation and manufacturing companies in search of new business from this industry can make a successful transition if they do their homework."
This webinar from Robotic Industries Association is a preview of Senti's presentation at the
Robotic Industries Forum
in Orlando, Florida, January 20-22, 2010.
Registration for the webinar
is completely open and free; however the Forum is a members-only event.
About RIA
Founded in 1974, RIA is the only trade group in North America organized specifically to serve the robotics industry. Member companies include leading robot manufacturers, users, systems integrators, component suppliers, educators, research groups, and consulting firms. RIA is renowned worldwide as the sponsor of the Joseph F. Engelberger Robotics Awards, co-produces the biennial International Robots, Vision & Motion Control Show and Conference plus many regional events, and is secretariat of the ANSI/RIA R15.06-1999 Robot Safety Standard. RIA is the sole source of North American robotics industry statistics which are included in the World Robot Statistics published by the International Federation of Robotics. RIA also is publisher of the industry's leading web portal, Robotics Online (
www.robotics.org
).
About Advanced Magnet Lab
Advanced Magnet Lab (AML) provides revolutionary technology for the design and manufacture of advanced coils, magnets and magnet systems for energy, medical, defense and research. Unmatched 3D coil design software and automated construction processes enable rapid deployment of complex state-of-the-art magnets. AML's energy company, AML Energy, is a developer of advanced electrical machines based on Superconducting Technology. AML Energy machines are smaller, lighter and more efficient than their normal conducting (or resistive) counterparts. These machines will have a significant impact on how power is generated and used over the next decades.
www.magnetlab.com
&
www.amlcleanenergy.com