Webcast Available on Demand - "How to choose the correct Infrared Camera for your application"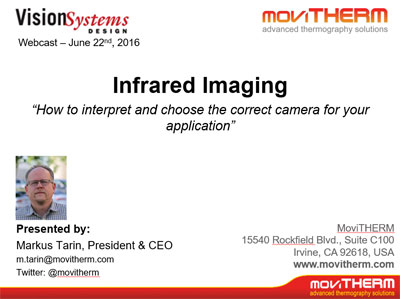 Vision System Design hosted an international webcast on Infrared Imaging – "How to interpret and choose the correct camera for your application". This webcast was presented by Markus Tarin, President & CEO of MoviTHERM. The topic and webcast was very well received by the audience with over 300 registered participants from over 50 countries around the world.
This webcast is perfect for anybody interested in infrared, non-visible imaging applications, machine vision integrators, researchers and scientists as well as quality assurance professionals that would like to educate themselves about the topic. Infrared imaging is a very complex and fascinating topic. This webcast will provide a broad overview on camera and detector technologies relevant to anybody interested in this subject matter.
Mr. Tarin discussed many topics related to infrared cameras that are important to understand before selecting and purchasing an infrared or thermal camera.
Topics of the Infrared Imaging Webcast included
A definition what an infrared camera is
How the various Infrared Detector technologies relate to certain regions of the infrared spectrum
Application examples for infrared cameras
Non-contact temperature measurements using thermography
The importance of understanding Emissivity
The effect of spatial resolution on accuracy
Detector Sensitivity (NETD) & Noise
Shutter/Non-Uniformity Calibration flag
Considerations for imaging fast moving objects
Communications Interface Options
Lens Choices
Protective Enclosures for IR Cameras
ITAR Export Considerations
The webcast concluded with an overview of the most common camera/detector combinations, their approximate price points and typical applications. The conclusion was followed by a lively questions and answer session, moderated by Andy Wilson, Editor in Chief – Vision Systems Design Magazine.
MoviTHERM received many compliments in emails from participants after the live event, including one from Andy Wilson. He wrote:
"Many thanks for such an excellent webcast. It was the best we have held this year. I really appreciate your time and effort."
Watch this webcast anytime at your convenience. Feel free to contact MoviTHERM with any of your questions regarding infrared imaging and thermography.