Waterjet Cutting and OCTOPUZ - A Powerful Combination
If one robot can save your company time and money, just imagine what four can do!
Tech-Con Automation, an automation solutions company in Burlington, Ontario, recently programmed and simulated a waterjet cutting cell using Yaskawa Motoman robots and OCTOPUZ, the offline robotic programming software developed by In-House Solutions.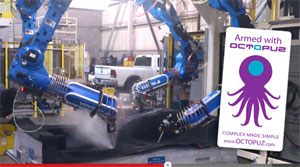 The newest OCTOPUZ video (which can be found on the OCTOPUZrobotics YouTube channel, or here on RIA) shows four HP20D robots, equipped with waterjet cutting heads and operated by an NX100 controller, cutting out carpets for the inside of a car. The simulation was programmed in just hours rather than days using a single CAM file with all tool on/off commands from OCTOPUZ and multiple user frames. The four simultaneously-moving robots were collision-checked against each other and their surroundings, avoiding any unpredictable motions or collisions ahead of time.
"Being able to see a simulation of the waterjet cutting cell in action convinced us that we could not only increase our efficiencies but be aware of any potential issues before going into production," said Rick Bobzener, GM of Applications.
OCTOPUZ was created by In-House Solutions to meet the rising needs in the robotics industry, and uses a revolutionary method of combining offline programming of robots with manufacturing process simulation.
Here are a few reasons why an increasing number of companies are making OCTOPUZ part of their automation solutions:
Programming time is much faster.
Robot can still operate and generate revenue while the next part is being programmed.
Collisions and unpredictable motions can be avoided ahead of time, resulting in substantial savings in time and money.
Complex paths can be made using any CAM system.
The tool set can be positioned perpendicular to the surface if possible.
OCTOPUZ is the intelligent offline robotic programming and simulation software by In-House Solutions.