VRmagic at SPS IPC Drives 2013: Extensive Range of Software for the D3 Intelligent Camera Platform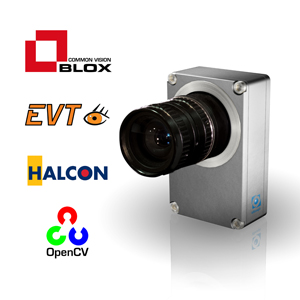 From graphical programming through simple scripts up to programming in C++ – The German camera manufacturer VRmagic presents a wide range of image processing software for the D3 intelligent camera platform at SPS IPC Drives 2013.
With the extended software portfolio for the D3, VRmagic offers the broadest support of embedded image processing software currently available on the market. The German camera manufacturer provides a large selection of libraries like Common Vision Blox Embedded, HALCON Embedded, EyeVision and OpenCV, thus facilitating solutions for the most diverse requirements. This makes application development for intelligent cameras easier than ever before.
The D3 is the first intelligent camera platform to support Common Vision Blox Embedded. This powerful and modular programming library offers fundamental building blocks for image acquisition, image access, image display, coordinate transformation or normalization. Based on these highly optimized algorithms, users can integrate their own code for total flexibility. "We have been looking for a suitable platform for Common Vision Blox Embedded for quite some time," explains Martin Kersting, development manager at STEMMER IMAGING. "Due to the floating point unit on ARM and DSP, all operations and applications run particularly fast on the D3. This convinced us that the D3 is the right platform for CVB Embedded."
HALCON Embedded makes it possible to develop HDevelop scripts on a standard PC. The scripts are executable directly on the camera. With more than 1,800 operators, this leading machine vision library offers solutions for the full range of machine vision applications such as wafer and die inspection, medical image analysis, automotive engineering, robotics, surveillance, and remote sensing. "In addition to high performance, the D3 especially stands out due to its flexibility, since the camera platform supports significantly more interfaces than others," as Gerhard Blahusch, Head of the department Solutions + Services at MVTec, describes the benefits. "HALCON Embedded and the D3 are a high performance team, which provide users with many industrial image processing options."
EyeVision offers image processing solutions for a variety of applications, such as measurement and test procedures, surface inspection, QR and bar code reading, OCR/OCV, pattern matching, and 3D measurement. The graphical user interface enables even inexperienced users to easily and quickly create image processing applications, such as inspection procedures, without programming skills. "The flexible camera platform allows the simultaneous connection of up to four sensors," explains Michael Beising, CEO of EVT Eye Vision Technology. "Further, the dual core processor with a 1 GHz ARM and an 800 MHz DSP enables support for a broad spectrum of applications, for example hardware alignment systems in the semiconductor industry, 3D applications or even the full surveillance of rooms."
OpenCV is an open source computer vision and machine learning software library that runs on the D3. OpenCV is comprised of more than 2,500 optimized algorithms and a comprehensive set of both classic and state-of-the-art computer vision and machine learning algorithms. These algorithms can be used to detect and recognize faces, identify objects, track moving objects, extract 3D models of objects or follow eye movements.
The D3 is also compatible with GStreamer, Qt®, TI DSP Codecs, TI IMGLIB and VM_LIB. Furthermore, VRmagic supports applications development with a comprehensive Software Development Kit (SDK).
Visit us at SPS IPC Drives in hall 7A, booth 636.
About VRmagic
Headquartered in Mannheim, Germany, VRmagic develops, manufactures and sells cameras for industrial image processing, optical tracking systems and VR technology. The second business division specializes in simulators for medical training.