VisionPro 3D
rong>New 3D Vision - Not Just Any 3D, it's Cognex 3D!

Cognex Corporation (NASDAQ: CGNX) has announced the addition of 3D vision in the new release of VisionPro®, the software that set the industry standard for machine vision performance. VisionPro 3D delivers accurate, real-time, three-dimensional position information to automate challenging assembly verification, logistics, and robot applications. VisionPro 3D works with any number of fixed or robot mounted cameras for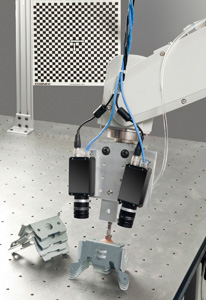 complete application flexibility. Based on Cognex's leading PatMax® and other alignment technologies, it's not just any 3D machine vision—it's Cognex 3D!

"We're taking our advanced 3D tools and putting them in VisionPro, the premier programmatic environment for system integrators and OEMs." said Dr. Markku Jaaskelainen, Vice President and Business Unit Manager for Vision Software. "Our partners are already using VisionPro 2D tools for a wide range of vision and robotic applications. VisionPro 3D opens new opportunities for them to solve more complex alignment applications. And, because it is integrated with the existing VisionPro library, they have access to VisionPro's wide range of identification and inspection tools. This expands the value they can add to a project."

Robust 3D Location
VisionPro 3D uses multiple sets of two-dimensional features found by field proven Cognex alignment tools, including PatMax, PatFlex™ and other geometric pattern matching tools. These tools tolerate non-uniform lighting and remain reliable even when patterns are partly covered, ensuring accurate part location under the most challenging conditions.

Application performance is enhanced by high-precision Cognex calibration tools that adjust for optical distortion and camera position, and synchronize cameras with vision-guided robots—key to the success of any 3D application.

"VisionPro 3D is designed to work under real-world conditions," said Dr. David Michael, Director of Core Vision Technology. "It continues to perform if some part features are not visible. It even compensates if one of the cameras has moved out of alignment, so that production can continue uninterrupted."

VisionPro 3D is designed for a variety of stationary and robotic applications, such as racking/de-racking and de-palletizing, as well as kitting and assembly verification in automotive and other precision manufacturing industries.

VisionPro 3D offers a starter kit for fast start up and easy training, which includes the VisionPro 3D software and a turnkey training application. The training application comes complete with source code and all the hardware needed to get started quickly, including cameras, a tripod, and precision calibration plates.

VisionPro 3D is available 1 May 2011. For more information, visit www.cognex.com/visionpro3D.

About Cognex
Cognex Corporation designs, develops, manufactures and markets machine vision and industrial ID systems, or devices that can "see." Cognex vision and ID systems are used around the world for a wide range of inspection, identification and guidance applications throughout the manufacturing and distribution process. Cognex is the world's leader in the machine vision and industrial ID industries, having shipped more than 600,000 systems, representing over $3 billion in cumulative revenue, since the company's founding in 1981. Headquartered in Natick, Massachusetts, USA, Cognex has regional offices and distributors located throughout North America, Europe, Asia, Japan and Latin America. For details, visit Cognex on-line at http://www.cognex.com.