Vision Components beyond the Limits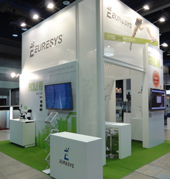 At the Korea Vision show this year, Euresys has demontrated the Grablink Full XR – eXtended Reach –. This new Euresys Camera Link frame grabber features ECCO+. In many cases, ECCO+ allows to double the maximum length of the Camera Link cables used, thus making the use of a repeater unnecessary.
This high-end acquisition board offers an outstanding acquisition solution for high-speed and high-resolution area-scan and line-scan applications such as printing, web and Flat Panel Display inspection, 3D inspection and manufacturing inspection for fast production lines.

Euresys also showcases at these shows the powerful, robust and reliable Open eVision software tools suite as well as new Picolo HD acquisition cards for medical devices (for dental or image-guided surgery applications), laboratory or measuring microscopes and video surveillance equipment.
The Picolo HD brings to these applications the clarity of real-time, high-definition 1080p video.