Vision and Collaborative Robot Trade Show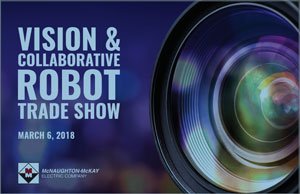 The McNaughton-McKay Electric Company proudly announces its first annual Vision and Collaborative Robot Trade Show on March 6th, 2018. The event will take place on the campus of Henry Ford Community College in Dearborn, Michigan. Come learn about solutions for your factory automation success and quickly changing industry trends. During this event, you will have the opportunity to meet with industry leaders and gain insight into the future of vision and collaborative robots. Discover innovative ways that this growing industry is creating jobs, saving lives, increasing profitability, and how it will change the future of manufacturing.
Topics will include:
Roadmap to the future for machine vision and collaborative robots
Learn about new industry trends
Networking with industry leaders
Featured vendor presentations
Explore vendor booths and solutions offerings
And more…
RESERVE YOUR SPOT TODAY AND DO NOT MISS OUT ON THIS SPECIAL OPPORTUNITY!
To register online please visit mc-mc.com/eventDetailsUnit.action?eventID=377. For more information contact Ryan Papp at pappr@mc-mc.com or (248) 582-2409.
Event Location: Henry Ford Community College Auditorium, Building L, 5101 Evergreen Road, Dearborn, MI 48128