VISION 2012 Preview: AVT Presents More than 20 New Products at New Booth
From November 6 to 8, 2012 Allied Vision Technologies will debut more than 20 new camera models, including the new Mako series with GigE Vision and USB3 Vision interface.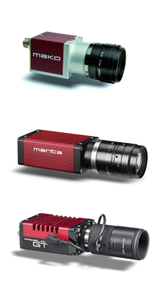 Following the VISION show's move to Hall 1 of Messe Stuttgart, Allied Vision Technologies will greet visitors at a new, larger booth. In a generous, open area, this leading camera manufacturer will present more than 20 new models.

World Premiere: AVT Mako with GigE Vision and USB3 Vision interface
The highlight of this year's appearance is the new Mako camera family that will be celebrating its premiere in Stuttgart. Mako is a small industrial camera with a Gigabit Ethernet Interface (GigE Vision) and Power over Ethernet. The Mako will be AVT's first camera available with two digital interfaces: alongside GigE Vision, this new model will also be available with a USB3 Vision interface. Following AVT active participation in the definition of this standard for the machine vision industry, the company now presents its first USB3 Vision camera model.
Manta: high resolution and multi-tap sensors
The Manta camera series is expanding with six new models in the upper resolution range. Worth particular notice are the Manta G-282 and Manta G-917, the first industrial cameras with the new Sony ICX687 (2.8 megapixels) and ICX814 (9.2 megapixels) multi-tap sensors. Along with the new high-resolution Sony CCD models, AVT is also presenting two new models with CMOS sensors from CMOSIS: the Manta G-223 (CMV2000 sensor with 2.2 megapixels) and Manta G-419 (CMV4000 with 4.2 megapixels).
Prosilica GT: high-resolution CMOS and CCD sensors
The Prosilica GT family is getting both of the popular CMOSIS sensors with 2 and 4 megapixel resolution as well. Moreover, AVT is expanding the Prosilica GT family with four new models with high-resolution CCD sensors. With large-format sensors from Truesense, both the Prosilica GT4905 with 16 megapixels in APS-H sensor format, as well as the GT4907 and GT6600 with 16 and 29 megapixels respectively in 35 mm sensor format, will be shown. The family will be completed with Sony's new 9.2 MP sensor in the Prosilica GT3400.
Vision you can touch
Along with all these new products, visitors to VISION can, as always, look forward to exciting and interactive camera demonstrations at the AVT booth, located in Hall 1, booth no. F62.