Vecna Robotics Partners with RightHand Robotics
Vecna Robotics, a leader in next-generation mobile robotics, and RightHand Robotics, a leader in robotic picking solutions, have announced a collaboration to improve the performance of e-commerce order fulfillment.
According to a release, the partnership will offer best-in-class solutions to simplify intralogistics and material handling challenges.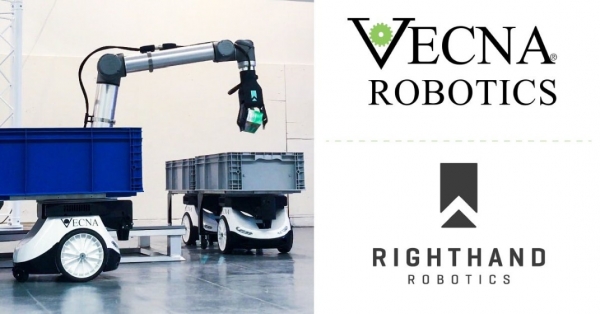 "We're excited to have this robust and cost-effective solution become available to all Vecna Robotics and RightHand Robotics customers through this collaboration," said John Hayes, vice president of sales and marketing of Vecna Robotics. "RightHand has best-in-class piece-picking technology, while Vecna Robotics has best-in-class autonomous mobility. Both companies have a shared vision of using their expertise and cutting-edge technology to provide end-to-end, dynamic material handling and logistics solutions that can grow and evolve with business needs."
Vecna Robotics offers a wide range of intelligent, collaborative mobile robots and fully-autonomous, zero-infrastructure AGVs designed specifically for safe and flexible material flows in dynamic, human-centric environments. Robot payload capacities range from 20kg to 4500kg. This smart fleet works together through central orchestration by the Core Task Manager, which takes upstream work orders and assigns tasks to robots and humans as appropriate to efficiently fulfill orders.
"Vecna Robotics has a broad and proven range of mobile robotic solutions," said Leif Jentoft, co-founder of RightHand Robotics. "Combined with our ability to deliver the 3Rs of robotic piece-picking – range of products, rate, and reliability – with our RightPick.AI software, we believe there are many retailers who will benefit from this holistic approach."
RightPick is a combined hardware and software solution that picks individual items for e-commerce order fulfillment for pharmaceuticals, electronics, grocery, apparel, and other industries. Unlike traditional factory robots, RightPick handles thousands of different items using a machine learning backend coupled with an intelligent gripper that works in concert with robotic arms.
Vecna Robotics and RightHand Robotics will be showcasing each other's technologies at Modex in Atlanta, Ga., April 9-12. Vecna Robotics will exhibit at booth B4987 and RightHand Robotics will be at booth B4087.
Service Robots
This content is part of the Service Robots curated collection. To learn more about Service Robots,
click here
.