VDS Vosskühler Integrated into Allied Vision Technologies
rong>The former VDS Vosskühler GmbH of Osnabrück, Germany is now incorporated as a branch office of Allied Vision Technologies GmbH. VDS Vosskühler cameras to be integrated into the AVT product range under the AVT brand.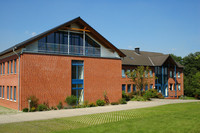 The integration of VDS Vosskühler into Allied Vision Technologies (AVT) has been fast-tracked since the acquisition of the Osnabrück-based company by AVT. As of September 1, 2011, VDS Vosskühler GmbH no longer exists as an independent legal entity and has become a branch office of the Stadtroda-headquartered Allied Vision Technologies GmbH.

Expansion of the Osnabrück Site
Not only are the Osnabrück facilities and staff maintained, but they will also be expanded. The search for additional development and support engineers has already started. "With the acquisition of VDS Vosskühler, Allied Vision Technologies has gained a deep knowledge in specific camera technologies such as infrared and high-speed imaging. Our goal is to build on this solid basis and expand our business in these areas", explains Frank Grube, President & CEO of AVT.

Sales of the cameras designed and manufactured in Osnabrück will be taken over by Allied Vision Technologies' world-wide sales organization. Former VDS Vosskühler products will be rebranded and integrated into AVT's camera range shortly. The new product portfolio will be introduced to the public at the VISION show in Stuttgart, Germany early November 2011, which will also be the kick-off of the new sales organization.