VARTA AG receives German Innovation Award
Jury awards VARTA for its outstanding performance in lithium-ion battery cells
The "German Innovation Prize" was awarded for the eleventh time on 3 April 2020, and this year's prize went to VARTA AG. Accenture, EnBW and WirtschaftsWoche joined forces to form "The German Innovation Prize" initiative to recognize outstanding, forward-looking innovations by German companies that are changing business and markets with their innovative strength. VARTA was able to convince the jury with a new technology for increasing the energy density of lithium-ion batteries, achieved by using and optimizing new materials with higher storage capacity. In a first step, the energy density was increased by 25 percent. For manufacturers of wireless headsets, for example, the battery is a strategic component. Therefore, high energy density is of great importance for manufacturers and their customers, and this enables longer runtimes or additional functions in their headsets.
"I am very proud of this award and thank the jury for the recognition", says Herbert Schein, CEO of VARTA AG. "Intensive in-house research and innovation are firmly anchored in VARTA's DNA. The basis for this is our culture of innovation. We are therefore all the more pleased to receive the German Innovation Prize, the award of which once again confirms the successful implementation of our corporate strategy. In more than 130 years of company history, innovation has always played a key role in our success."
This year, nine companies were nominated for the German Innovation Award. The ten-member jury, consisting of top-class personalities from research and business, selected the most forward-looking innovations. In addition to product innovations, innovative business models, processes and services are also considered, as well as organisational and marketing innovations.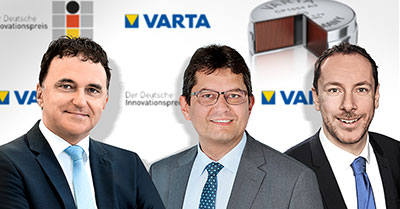 They are happy to receive the German Innovation Award: Herbert Schein, CEO VARTA AG, Rainer Hald, CTO VARTA Microbattery GmbH / VARTA Storage GmbH and Andreas Fritz, Head of Global Marketing, VARTA Microbattery GmbH (from left to right).
About VARTA AG
VARTA AG produces and markets a comprehensive battery portfolio, ranging from microbatteries, household batteries, energy storage systems to customer-specific battery solutions for a wide range of applications, and, as a technology leader, sets industry standards in key areas. As the parent company of the Group, it operates in the business segments "Microbatteries & Solutions" and "Household Batteries".
The "Microbatteries & Solutions" segment focuses on the OEM business for microbatteries as well as on the lithium-ion battery pack business. Through intensive research and development, VARTA sets global standards in the microbattery sector and is a recognized innovation leader in the important growth markets of lithium-ion technology and primary hearing aid batteries. The "Household Batteries" segment comprises the battery business for end customers, including household batteries, rechargeable batteries, chargers, portable power (power banks) and lights as well as energy storage devices. The VARTA AG Group currently employs almost 4,000 people. With five production and manufacturing facilities in Europe and Asia, and distribution centers in Asia, Europe and the USA, VARTA AG's operating subsidiaries are currently active in over 75 countries worldwide.