Value-Line Servomotors
Focused set of features enables Value-Line motors to deliver quality servomotor performance at best possible price
RADFORD, VA – Kollmorgen introduces Value-Line servomotors (VLM). VLM servomotors offer good performance at an excellent price covering the torque range from 0.5Nm to 16Nm (peak or continuous). The result is a high value, limited feature set motor that delivers solid servo performance for a wide variety of applications.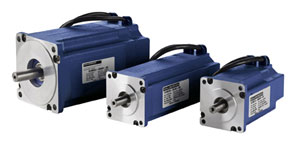 "VLM servomotors deliver exceptional value to machine builders who need good servomotor performance at the best possible price. These motors deliver high-torque-per-dollar by leveraging specially selected components and flying leads that help eliminate the need for intermediate cables, and by utilizing low cost feedback options," says Gene Matthews, Product Manager. "VLM motors complement Kollmorgen's high-performance and high-flexibility global AKM™ servomotor product line by providing a lower priced solution built around a focused set of options."

VLM servomotors are available in the most popular motor sizes with 12 standard windings, in both NEMA23 and NEMA34 and Metric (60mm and 90mm) mounting standards, and with multiple shaft configurations for seamless integration into nearly any system. VLM servomotors can operate at 120/240 VAC or 160/320 VDC and deliver rated speeds up to 6000 RPM, while providing up to 16Nm peak torque and nearly 5Nm continuous torque. Additionally, multiple feedback and cable options give machine builders system configuration flexibility without adding significant cost. VLM servomotors are ROHS compliant, with CE, UL and cUL recognition pending.

Kollmorgen's popular MOTIONEERING® Application Engine 6.2.0 enables OEMs to quickly and easily select the optimal VLM servomotor and Kollmorgen drive system to satisfy the unique performance requirements of specific applications.

ABOUT KOLLMORGEN
Kollmorgen is a leading provider of motion systems and components for machine builders around the globe, with over 70 years of motion control design and application expertise.

Through world-class knowledge in motion, industry-leading quality and deep expertise in linking and integrating standard and custom products, Kollmorgen delivers breakthrough solutions unmatched in performance, reliability and ease-of-use, giving machine builders an irrefutable marketplace advantage.