Vacuum Technology Specialist Schmalz with New Website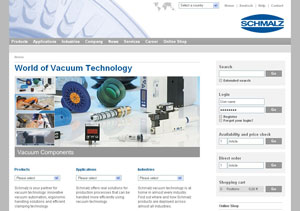 Schmalz, the global expert for Vacuum Technology, has re-launched its website and online-shop and expanded the information about its products, application examples and industry solutions.
The clear and well-arranged structure of www.schmalz.com makes it easier to navigate through the broad product and service portfolio. Vacuum components and vacuum clamping products as well as workshop equipment can be ordered in the updated online shop. Prices and availability can be looked up in real time. In addition, 2D and 3D data about the products is available for download. In the "order center", the customer can get information on the current status of his order and easily generate subsequent orders based on his order history.
User reports and industry solutions illustrate areas of application. Integrated video clips complete the information offering. As an additional service function, Schmalz offers an email newsletter with current topics from the world of vacuum technology.
About the Schmalz Group:
Founded in 1910 in the Black Forest of Germany, Schmalz today distributes its innovative vacuum automation components, vacuum gripping-, handling- and clamping-systems worldwide.
Schmalz is one of the few positive-energy companies worldwide and has been rewarded for its sustainability several times. Schmalz is ISO 9001 and ISO 14001 certified for more than 10 years.
Schmalz Inc., founded in 1999, is the US-subsidiary of Schmalz. Located in Raleigh, NC, Schmalz Inc. has its own outside sales force and Authorized Schmalz Distributors in all states.