Vacuum suction cups made of PVC
Vacuum specialist Schmalz extends it's delivery program of vacuum suction cups for a complete line of bellows suction cups made of the wear-resistant material PVC

By using vacuum suction cups made of PVC, you benefit from the following advantages:
Large effective internal diameter - High suction force in spite of small size
Soft and flexible sealing lip - Very good adaption to curved or uneven surfaces
Flexible, adaptable material and soft corrugations - Optimised sealing properties, particularly on non-rigid workpieces
Wear-resistant material PVC - Long operating lifetime, very wide range of applications
Due to these specific features, the vacuum suction cups made of PVC are designed for applications in the packaging industry as well as the CD-/DVD-industry for the following applications:
Handling tasks in the packaging industry such as handling of film-packed and blister-packed products and small cardboard boxes
Suitable for the usage in box erectors or for positioning of labels
Suitable for handling of non-rigid workpieces and soft packaging materials
Handling tasks in special processes where chlorinated water is used, such as rinsing of plastic bags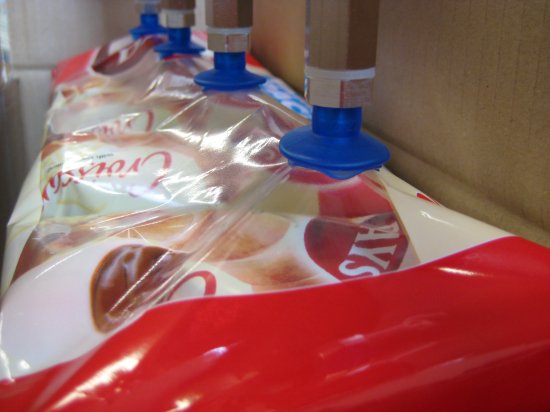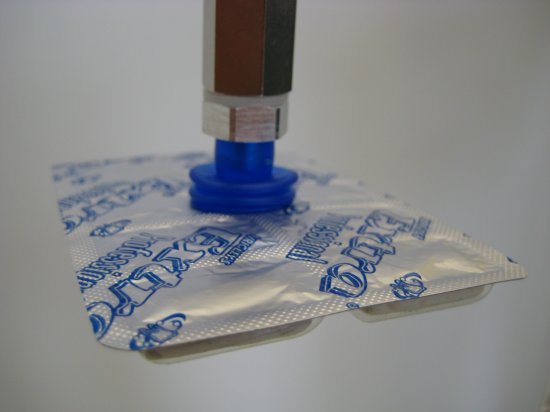 Schmalz Inc. is committed to provide an outstanding and timely service nationwide.Schmalz is the leading supplier of Vacuum Automation Components as well as Robotic and Gantry style Vacuum Gripping Systems. Schmalz supplies modularly constructed area and layer vacuum grippers for flexible handling of varying material properties, configurations and shapes - such as non-rigid cardboard boxes, plastic film and porous materials. Schmalz grippers can handle varying dimensions and undefined positions. The product range of Vacuum Components includes suction cups in (11) standard materials and cup lines for special industry needs, e.g. Automotive cups or cups for the Packaging industry. The product range also includes vacuum generators, mounting elements and system monitoring devices. Schmalz, founded in 1910 in Germany, is family owned and operated in third generation. Schmalz is one of the few positive-energy companies worldwide and has been rewarded for its sustainability several times. Schmalz is ISO 9001 and ISO 14001 certified for more than 10 years.

Schmalz Inc., founded in 1999, is the US-subsidiary of Schmalz. Located in Raleigh, NC, Schmalz Inc. has its own outside sales force and Authorized Schmalz Distributors in all states.
Contact:
Schmalz Inc.
5200 Atlantic Avenue
Raleigh, NC 27616
(919) 713-0880
www.schmalz.com