Vacuum suction cups for blister packs
The requirements on vacuum suction cups for handling blister packs are constantly growing. There is a trend to handle finer films at shorter cycles.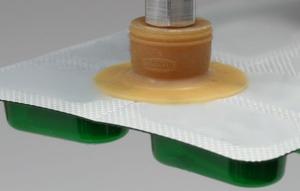 With the suction cups designed and produced by the vacuum specialist Schmalz, you play safe. Due to the large product line Schmalz offers the possibility to choose between different materials and geometries with specific benefits securing your competitive advantage.
Foil suction cups SGPN - the line SGPN is made of natural rubber and suits very thin blister films. A low inner volume guarantees short evacuation times.
Bellows suction cups made of PVC - are characterized by a highly flexible but also wear-resistant sealing lip and are suited for blisters, e. g. battery carton.
Vacuum suction cups made of HT1 - leave no marks and may be applied directly on transparent surfaces.
Vacuum suction cups made of Silicone - complies with the strict demands of FDA.
For further information, please take a look at our product overviews which you may download by using the links on the bottom.

Schmalz is the leading supplier of Vacuum Automation Components as well as Robotic and Gantry style Vacuum Gripping Systems. Schmalz supplies modularly constructed area and layer vacuum grippers for flexible handling of varying material properties, configurations and shapes - such as non-rigid cardboard boxes, plastic film and porous materials. Schmalz grippers can handle varying dimensions and undefined positions. The product range of Vacuum Components includes suction cups in (11) standard materials and cup lines for special industry needs, e.g. Automotive cups or cups for the Packaging industry. The product range also includes vacuum generators, mounting elements and system monitoring devices. Schmalz, founded in 1910 in Germany, is family owned and operated in third generation. Schmalz is one of the few positive-energy companies worldwide and has been rewarded for its sustainability several times. Schmalz is DIN ISO 9001 and DIN ISO 14001 certified for more than 10 years.