Vacuum Gripping Systems from Schmalz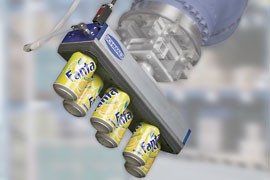 With its modular vacuum gripping systems based on standardised components, Schmalz offers a cost-efficient means of realizing application-specific solutions for automated handling processes. Schmalz's range comprises the FX/FXC, FM/FMC and SBX large-area vacuum gripping systems, the SPZ layer gripping system, and the SSP vacuum spider.

FX/FXC and FM/FMC large-area vacuum gripping systems
The FX/FXC is a compact vacuum gripping system with a fully integrated pneumatic vacuum generator.
It is ideal for automated palletising/depalletising, picking and sorting different workpieces such as cardboard, wood, metal and plastic, whether with or without gaps in the surface.

• Main body made of aluminium, available in variable lengths
• Integrated function modules in each end cover
• Integrated sealing change plate, plug-in ejector and valve technology
• Possibility to use multiple main bodies in combination

The FM/FMC large-area vacuum gripping system is a variant of the FX/FXC with external vacuum generation. This is an advantage if multiple large-area grippers need to be supplied with suction. The user also has a choice between ejector-based or vacuum-pump-based compressed air generation.

The FM/FMC is also differentiated by its low height and weight, which is useful for certain applications. Otherwise, the areas of application are identical to those of the FX/FXC large-area vacuum gripping system.
SBX large-area vacuum gripping system.

The SBX large-area vacuum gripping system is the first choice for handling layers of large, heavy goods such as doors, sheet materials, sawn timber and steel profiles or transport materials with contorted, rough surfaces.
This heavy-duty product is by no means itself heavy − its compact dimensions make a big contribution to ensuring that goods can be positioned quickly and reliably per robot.
• Vacuum generation can be provided by compressed air ejector, vacuum pump or blower
• Flow valves integrated into the suction surface
• Unused suction openings are automatically closed, allowing suction to be generated quickly and ultimately providing high holding power
• Two SBX large-area vacuum gripper units can be used in tandem and fitted with a modified cross-arm to handle goods that are extremely long, narrow and flat.
SPZ layer gripping system
The SPZ vacuum layer gripping system can be used to palletise/depalletise entire product layers, intermediate product layers, pallets, cases, boxes or film-packaged products with the lowest possible cycle times.

• Extremely flexible in implementation
• Provides optimal fit to the workpiece surface structure.
• Suction plate made from special foam, even functions reliably at -28 °C.
• Suction plate can be fitted with an auxiliary mechanical gripper
• Option to implement a patented "curtain concept" to handle products that are difficult to handle automatically.
SSP vacuum spider
SSP vacuum spiders are the preferred system for use in the robotic handling systems. They are also used to remove injection moulded parts from their moulds and to load cutting and machining centres with wood, plastic and sheet metals.
• Main body is made of aluminium profiles, steel pipes and plastic connection/fastening components. Vacuum generator, valves, switching and monitoring components are mounted on these pipe and profile components.
• Building-block system of coordinated components to build custom systems by putting together standard parts. • Possibility to combine different gripping technologies, e.g. vacuum, magnetic, mechanical, and pneumatic, in order to handle difficult-shaped goods fast and reliably.
• Intelligent valve and control technology ensure that suction openings not in use close automatically
Schmalz is the leading supplier of Vacuum Automation Components as well as Robotic and Gantry style Vacuum Gripping Systems. Schmalz supplies modularly constructed area and layer vacuum grippers for flexible handling of varying material properties, configurations and shapes - such as non-rigid cardboard boxes, plastic film and porous materials. Schmalz grippers can handle varying dimensions and undefined positions. The product range of Vacuum Components includes suction cups in (11) standard materials and cup lines for special industry needs, e.g. Automotive cups or cups for the Packaging industry. The product range also includes vacuum generators, mounting elements and system monitoring devices. Schmalz, founded in 1910 in Germany, is family owned and operated in third generation. Schmalz is one of the few positive-energy companies worldwide and has been rewarded for its sustainability several times. Schmalz is ISO 9001 and ISO 14001 certified for more than 10 years.
Schmalz Inc., founded in 1999, is the US-subsidiary of Schmalz. Located in Raleigh, NC, Schmalz Inc. has its own outside sales force and Authorized Schmalz Distributors in all states. Schmalz Inc. is committed to provide an outstanding and timely service nationwide.

Contact:
Schmalz Inc.
5200 Atlantic Avenue
Raleigh, NC 27616
(919) 713-0880
www.schmalz.com