VACON 100 X Decentralized AC Drive Optimized For Outdoor Installations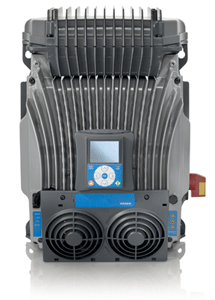 The VACON® 100 X sets a new benchmark for decentralized drive solutions. Equipped with highly advanced control capabilities to ensure processes run exactly as intended, and supporting both induction and permanent magnet motors up to 50 HP (37 kW), the VACON 100 X is ideally suited for wide-ranging applications. But what truly sets the VACON 100 X apart is its UL Type 4X (IP 66) enclosure that extends the range of possibilities for this drive for all outdoor installations, as well as heat, dirt and vibration. Rated for 0 to 100% relative humidity, 3g vibration resistance, 25g shock for 6ms (3M7 acc. to IEC 60721-3-31), and operating temperatures from 10°C to 40°C (up to 60°C with current derating), the sealed VACON 100 X provides the ruggedness and durability to withstand nature's elements and the test of time.
Cabinets, AC units, and electrical rooms become obsolete with the VACON 100 X, because the drive can be placed as close to the motor as necessary. This makes it perfect for installation scenarios where external factors frequently pose a design problem: retrofit, rooftop and washdown applications to name a few.
A prominent VACON 100 X safety feature is the integrated Safe Torque Off (STO) mode (SIL CL 3 according to EN 61800-5-2:2007), which provides the immediate removal of power to the motor.
Other VACON 100 X design features that enhance performance and durability include: a die-cast metal enclosure offering the best protection available; a breathable pressure equalizer vent to protect the gasket seals (and also enabling the 0-100% RH rating), and; a heat sink cooling system that is not dependent on motor airflow.
Protection features include: built-in harmonic filtering DC chokes to meet EN61000-3-12 requirements, built-in EMC filter for EN61800-3 category C2, thin film capacitor, and an integrated brake chopper.
The VACON 100 X is equipped with standard RS485 and Industrial Ethernet communication. Input line voltage is 208-240 or 380-480 VAC.
ABOUT VACON
Vacon is driven by a passion to develop, manufacture and sell the best AC drives and inverters in the world - and provide customers with efficient product lifecycle services. Our AC drives offer optimum process control and energy efficiency for electric motors. Vacon inverters play a key role when energy is produced from renewable sources. The company has production and R&D facilities in Europe, Asia and North America, and sales offices in 27 countries. For North America, our main offices are in Milwaukee, WI and in Stoney Creek, ON Canada, both offering state-of-the-art training and demonstration facilities. Our Chambersburg, PA manufacturing facility, built in 2009, was awarded the prestigious LEED Gold Certification in 2010. Further, Vacon has sales representatives and service partners in nearly 90 countries. Shares of VACON Plc (VAC1V) are quoted on the main list of the Helsinki stock exchange (NASDAQ OMX Helsinki).